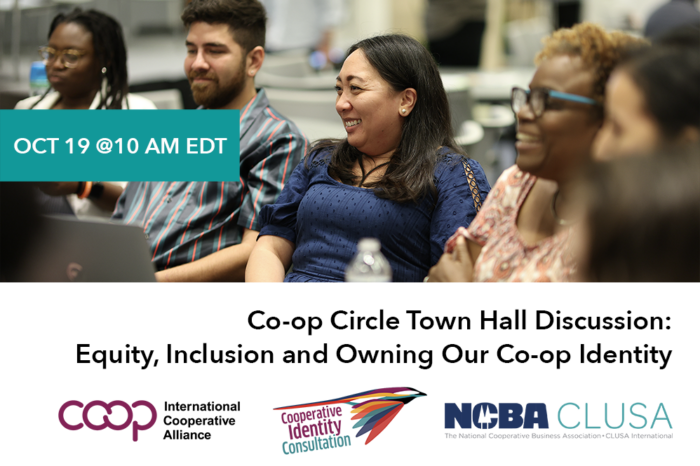 Join NCBA CLUSA, the International Cooperative Alliance and cooperators from around the globe on Thursday, October 19 from 10-11:30 AM EDT for a virtual event that will consider equity and inclusion in the context of the cooperative identity, values and principles.
As we observe National Co-op Month in the U.S. throughout October, this event presents an opportunity to actively "own" our cooperative identity. In partnership with the ICA's Cooperative Identity Consultation, we want to hear what you think would make our identity more relevant. How well do our principles and values set cooperatives apart from other business models?
As part of the International Cooperative Alliance (ICA)'s #CooperativeIdentity consultation process, the Cooperative Identity Advisory Group (CIAG) is inviting focused conversations on key issues at the core of our shared identity. These discussions—including this webinar—will help determine whether the Statement on the Cooperative Identity has stood the test of time, or needs a refresh to better reflect what it means to be a co-op in the 21st century.
Our panel of global thinkers, moderated by CIAG Chair Alexandra Wilson, includes Dr. Jessica Gordon Nembhard, Professor of Community Justice and Social Economic Development at John Jay College of Criminal Justice, City University of New York; Divyaa Gupta, Senior Coordinator at SEWA Cooperative Federation; and Marcelina Ziawińska, Vice President of the ICA Youth Network.
Register now and plan to:
Deepen your understanding of the Cooperative Consultation process with a focus on how cooperators from around the world can contribute and participate;
Learn from a panel of global thinkers on equity, inclusion and the Cooperative Identity;
Make your voice heard – how do you or your cooperative view equity and inclusion in the context of the Cooperative Identity?
This event will be presented in English with simultaneous Spanish interpretation.