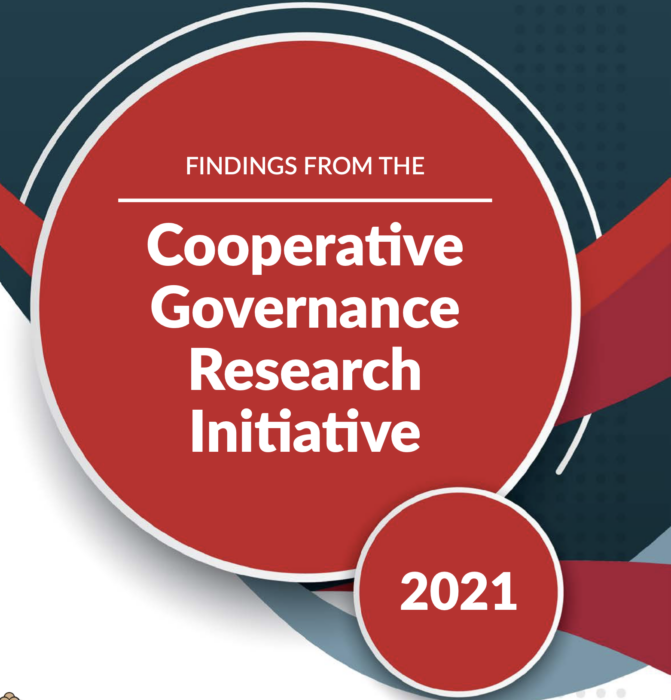 Earlier this month, the UW Center of Cooperatives released its report on the 2021 Findings from the Cooperative Governance Research Initiative (CGRI). Launched in 2021, CGRI aims to generate data that empowers cooperatives across sectors to reflect upon and improve their governance structures, processes, and culture. This is an important step in filling the data gap that is needed to benchmark cooperative governance practices.
The report highlights key cooperative governance practices captured in the first CGRI survey. The survey yielded enthusiastic responses from 500 cooperatives, capturing substantial diversity in terms of industry, type, size, age, and location, and creating a baseline for the range and frequency of cooperative governance practices across sectors. The 2021 CGRI survey focused on the following research question: What is the scope and prevalence of specific governance practices across the cooperative community related to board composition and qualifications; board nominations and elections; board training, education, and development; board meetings and decision-making practices; board compensation; the CEO; member participation; and board culture.
Join UWCC executive director Courtney Berner at NCBA CLUSA's Co-op Circle Happy Hour on Friday, September 23 from 12–1 pm CT. She will present the results and insights from the survey. Participants will be able to interact and discuss findings with co-op peers. There is no cost to participate.
Can't join us on Friday? Subscribe to get CGRI updates.