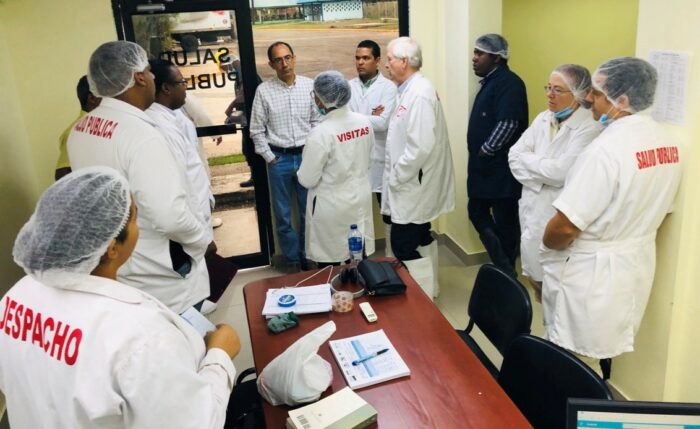 Traducción al español a continuación
The beef value chain in Dominican Republic has historically been characterized by informality, with most beef produced in the country coming from small or medium sized farms. Since 1997, when the last beef exports ended, all beef produced in the Dominican Republic has been consumed domestically. However, the beef sector has great potential to become a new source of exports for the Dominican Republic. The biggest barrier to date, has been the inability of the sector to meet U.S. standards to qualify for exports to the U.S., particularly with Puerto Rico, which is a prime market for Dominican beef.
In this context, a primary goal of the U.S. Department of Agriculture's (USDA) Safe Agriculture Food Export (SAFE) project has been to help the Dominican Republic achieve equivalence with U.S. food safety regulations under USDA's Food Safety and Inspection Service (FSIS). The baseline report conducted at the beginning of the SAFE project identified the primary obstacles to achieving FSIS Equivalence was the lack of government capacity to conduct inspections, laboratories that did not meet sanitary standards, and slaughterhouses capable of passing the FSIS food safety audit.
How the SAFE Project is Helping Dominican Beef Export
The SAFE project led the way on working with key government actors to solve these challenges. The SAFE project facilitated frequent meetings with the relevant government entities including Dirección General de Ganadería (DIGEGA) in the Ministry of Agriculture and Direccion General de Medicamentos, Alimentos y Productos Sanitarios (DIGEMAPS) in the Ministry of Health to develop procedures and protocols and build the capacity of staff to set the path towards a modern beef inspection system and the ability to achieve FSIS equivalence. Two of the slaughterhouses most prepared to meet the FSIS requirements, MERCARNE and AGROCARNE, also received extensive technical assistance from the SAFE project to complete the course of action needed to achieve equivalence standards.
Two key challenges which the SAFE project helped solve were confusion of agency roles and lack of capacity of the government laboratory. These were resolved with support from our partners, DIGEGA supported the stage from farm to slaughterhouse and DIGEMAPS was responsible from the slaughterhouse entry to retail and export and for coordinating with FSIS. For the laboratories, the SAFE project, along with by Organismo Internacional Regional de Sanidad Agropecuaria (OIRSA), helped orchestrate a network of domestic laboratories and a laboratory in Honduras to conduct microbiological and chemical residue testing of samples. A deal was made with COPA airlines to transport the samples to Honduras, which was key for providing the cold chain transport necessary for preserving the samples at the right temperatures. Continued support from the SAFE project to acquire specialty lab equipment, in the first quarter of 2021, has led to the beginnings of a local chemical residue testing program which should eventually reduce reliance on sending samples to Honduras.
By early 2020, the equivalence process had advanced to the point that participating slaughterhouses were deemed ready for the USDA APHIS/FSIS audit. A mock-audit for the slaughterhouses was conducted by experts from Texas A&M University and concluded that all components of the system were ready for the FSIS audit. Unfortunately, the outbreak of the COVID-19 pandemic in March 2020 led to the indefinite postponement of the audit, but it is widely believed by experts and others in the sector that equivalence has been achieved and FSIS approval will soon follow, when the audit can be rescheduled. The key now, is to ensure DIGEGA and DIGEMAPS are ready to be responsive to FSIS when the time comes for the rescheduled audit. Then it is only a matter of time before Dominican beef exports are making their way to international markets again.
—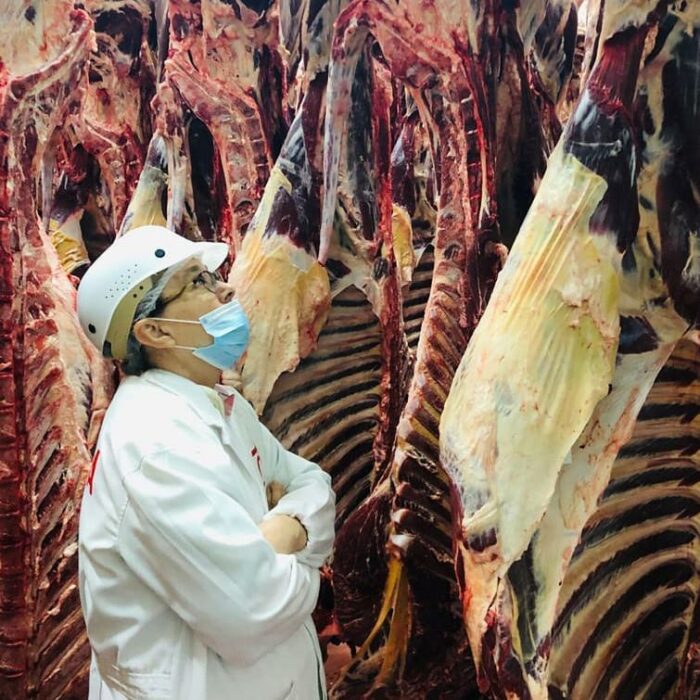 La cadena de valor de la carne de res en República Dominicana (RD) se ha caracterizado históricamente por la informalidad, y la mayor parte de la carne de res producida proviene de fincas pequeñas o medianas. Desde 1997, cuando terminaron las últimas exportaciones de carne vacuna, toda la carne producida se consume en el país. Sin embargo, tiene un gran potencial para convertirse en una nueva fuente de exportaciones. La barrera más grande hasta la fecha ha sido la incapacidad del subsector de cumplir con los estándares para calificar para las exportaciones a los Estados Unidos, particularmente con Puerto Rico, que es un principal mercado para la carne vacuna dominicana.
En este contexto, un objetivo principal del proyecto Fortaleciendo la Cadena de Valor Ganadera PROGANA (SAFE, por sus siglas en inglés) del Departamento de Agricultura de EE. UU. (USDA) ha sido ayudar a la República Dominicana a lograr la equivalencia con las regulaciones de seguridad alimentaria de EE. UU. Según el Servicio de Inspección y Seguridad Alimentaria (FSIS) del USDA. El informe de línea de base realizado al comienzo del Progana identificó los principales obstáculos para lograr la Equivalencia del FSIS como la falta de capacidad del gobierno para realizar inspecciones, los laboratorios que no cumplían con las normas sanitarias y los mataderos no estaban listos para aprobar la auditoría de seguridad alimentaria del FSIS.
El proyecto SAFE abrió el camino para trabajar con actores gubernamentales clave para resolver estos desafíos. El proyecto SAFE facilitó reuniones frecuentes con el gobierno pertinente, incluida la Dirección General de Ganadería (DIGEGA) del Ministerio de Agricultura y la Dirección General de Medicamentos, Alimentos y Productos Sanitarios (DIGEMAPS) del Ministerio de Salud para desarrollar procedimientos y protocolos y desarrollar la capacidad del personal para establecer el camino hacia un sistema moderno de inspección de carne de res y la capacidad de lograr la equivalencia del FSIS. También, Mercarne y Agrocarne, dos de los mataderos mejor preparados para cumplir con los requisitos del FSIS, recibieron una amplia asistencia técnica del Progana para completar el curso de acción necesario para lograr los estándares de equivalencia.
Dos desafíos clave que el Progana ayudó a resolver, fueron la confusión de los roles de las agencias y la falta de capacidad del laboratorio gubernamental. Estos fueron resueltos de la suiguiente manera: DIGEGA es responsables de la etapa de la finca al matadero y DIGEMAPS responsable desde la entrada del matadero hasta la venta al por menor, así como de la exportación y de la coordinación con el FSIS. Para los laboratorios, el proyecto Progana, junto con el Organismo Internacional Regional de Sanidad Agropecuaria (OIRSA), ayudó a orquestar una red de laboratorios domésticos y un laboratorio en Honduras para realizar pruebas microbiológicas y de residuos químicos. Se llegó a un acuerdo con la aerolínea COPA para transportar las muestras a Honduras, lo cual fue clave para brindar el transporte en cadena de frío necesario para conservar las muestras a las temperaturas adecuadas. El apoyo continuo del Progana para adquirir equipos de laboratorio especializados, en el primer trimestre de 2021, ha llevado al inicio de un programa local de pruebas de residuos químicos que eventualmente debería reducir la dependencia del envío de muestras a Honduras.
A principios de 2020, los mataderos participantes estaban listos para la auditoría del USDA APHIS / FSIS. Expertos de la Universidad de Texas A&M realizaron una auditoría simulada de los mataderos y concluyeron que todos los componentes del sistema estaban listos para la auditoría del FSIS, la cual estaba programada para finales de marzo. Lamentablemente, el brote de la pandemia de COVID-19 en marzo de 2020 llevó al aplazamiento indefinido de la auditoría, pero los expertos y otros en el sector creen ampliamente que se ha logrado la equivalencia y cuando la auditoría pueda realizarse se obtendrá la aprobación del FSIS. La clave ahora es garantizar que DIGEGA y DIGEMAPS estén listos para responder al FSIS cuando llegue el momento de reprogramar la auditoría. Entonces, es solo cuestión de tiempo antes de que las exportaciones de carne de res dominicanas vuelvan a abrirse camino hacia los mercados internacionales, no solo al mercado americano.