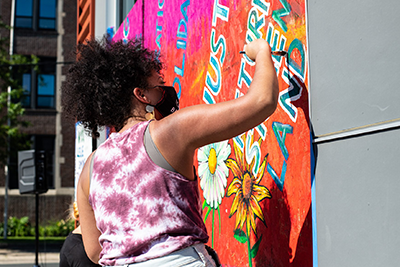 In a video last week, NCBA CLUSA president and CEO Doug O'Brien shared a critical reminder: doing the work of dismantling structures that sustain racism is "not a one-week conversation."
The message came a week after the cooperative community joined their neighbors across the country and around the world in condemning racism and violence against Black lives. Since then, more NCBA CLUSA members—including the National Rural Electric Cooperative Association, Valley Alliance of Worker Cooperatives and Equal Exchange have added their voice to calls for change.
Read the statements  Add your voice
Now, many cooperatives are shifting their focus, putting action behind their words and uplifting the values that define cooperation in concrete, impactful ways.
Seward Community Co-op in Minneapolis, Minnesota worked with local Black, Indigenous and People of Color (BIPOC)-led artist groups to create murals at the co-op's Franklin and Friendship stores that lift up messages of justice, love and hope. The co-op also broadened its community service reimbursement member benefit to include time staff spend participating in neighborhood watches, assisting in vandalism cleanup and supporting food donation drives.
Community Purchasing Alliance asked its members to consider purchasing their masks from BIPOC-owned businesses like Kerma Medical and Carolina Textile District. Arizmendi Bakery is donating bread to Black-owned organizations working to raise bail funds for protesters, serve the homeless community and eliminate health disparities among uninsured and low-income residents. PCC Community Markets is highlighting local organizations that work to ensure equity, food sovereignty and emergency food access for BIPOC communities, as well as Black-owned businesses like Métier Brewing in Woodinville, Washington—one of the few Black-owned breweries in the U.S.
The U.S. Federation of Worker Cooperatives urged its audiences to support Black-owned worker co-ops, including Custom Collaborative, which helps low-income and immigrant communities find living wage jobs in sustainable fashion, and Birth Brown, which works to reverse maternal mortality rates among Black women, who are three times more likely to die from pregnancy-related causes than white women.
Capital Impact Partners urged its Facebook audience to consider how housing has contributed to poverty within Black communities. In a blog post, president and CEO Ellis Carr shared recommendations for action: donate to social justice organizations and bail funds, engage in anti-racist education, demand policy reform and mobilize everyone to vote.
"As a mission-driven organization focused on building equity and power for our communities, these moments reaffirm our resolve and commitment to stand against racism in all its form, and work with our neighbors to create a reality in which everyone can thrive," Carr said.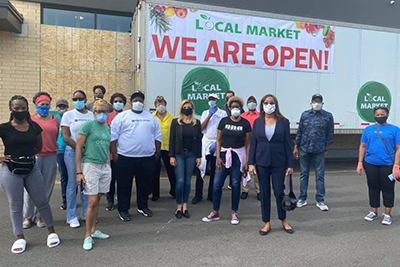 In a blog post for the Community Development Financial Institutions (CDFI) Coalition, John Holdsclaw IV, Senior Vice President of Corporate Affairs at National Cooperative Bank, highlighted the need for rest and healing in the face of overwhelming injustice, but also action. He shared the story of Local Market in Chicago's South Shore neighborhood, where community members stood in solidarity to protect their only grocery store from vandalism.
"What happens when the protests end, the verdicts are rendered and the television cameras and reporters leave? What more can I do, what more can you do?" Holdsclaw asked. "Let us… use our rested souls to combat systemic racism and injustice."
We encourage you to continue sharing how your cooperative is approaching this pivotal moment in history. How can cooperatives be authentic in activating or continuing their work to build an inclusive economy that empowers people to contribute to shared prosperity and well-being for themselves and future generations?