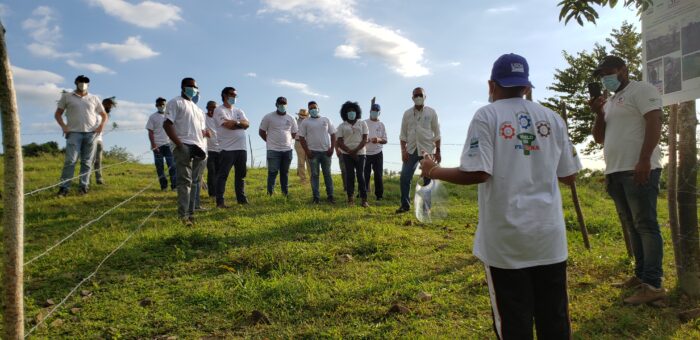 Traducción al español a continuación
For a long time, the livestock sector in the Dominican Republic has suffered from a lack of knowledge, access to technical assistance and best practice trainings. This has led to lower levels of milk productivity and milk quality in the Dominican Republic compared to peer countries in the region. To address these challenges, the U.S. Department of Agriculture (USDA)- funded Safe Agriculture Food Export (SAFE) project implemented by NCBA CLUSA initiated a livestock field school methodology, combining hands-on technical assistance for farmers with trainings on farm management and other subjects.
What is a Demonstration Farm?
Every two weeks, groups of farmers gathered together at "demonstration farms" – selected from participants – to learn through practical and shared experiences, facilitated by SAFE project staff and extensionists. The livestock field school uses an 80% hands-on and 20% theory approach, combined with the Production Coinvestment Program (PCP) provided through the SAFE project's grants program to provide farmers with necessary inputs through a package of pasture seeds, fertilizers, jerrycans, Empresa Brasileira de Pesquisa Agropecuária (EMBRAPA) designed kits (a Brazilian-designed unit used to clean teats and improve hygiene during milking), and other inputs. Training topics included farm management, milking techniques, hygiene, breeding, and other livestock related best practices.
Based on a methodology first developed by the Food and Agriculture Organization (FAO) 30 years ago, the livestock field school methodology was adapted by the SAFE project to fit the needs of the Dominican Republic farmers. The final evaluation of the project, by external evaluators Just Results, found that the livestock field school approach has been a major achievement in the eyes of farmers, associations, cooperatives, and other actors in the livestock value chain.
Increased milk productivity for participating farmers was a key metric of success. Farmers and extensionists alike thank the SAFE project's livestock field school methodology for major gains in the industry and adoption of new technologies. Studies conducted by the project during implementation, showed that farmers applying improved technologies increased milk production by an average of 23% from 5.8 liters per cow per day (lcd) to 6.38 lcd, compared to those farmers not applying technologies (sample size of 1,046). The final evaluation found similar improvements, with farmers participating for longer periods of time often seeing even larger increases in productivity of 50% or more.
Farmers surveyed for the final evaluation overwhelmingly endorsed the livestock field school methodology and associated technical assistance. Focus groups done with farmers and extensionists emphasized the impact of the livestock field school on improvements in milk productivity and quality. The evaluation survey showed that 78% of farmers said the livestock field schools were beneficial for them, with 75% crediting the SAFE project for increased productivity for their farm.
Farmers participating in the SAFE project also perceived that project activities directly led to increased household incomes (71%) and increased sales (73%).
Continued support for private extensionists through associations and cooperatives will be critical for the livestock field school to be maintained beyond the end of the SAFE project. There are also already discussions in progress about implementing the livestock field school methodology for public sector extensionists on a country-wide basis. In any case, as ASOCARNE (association of beef producers that worked closely with SAFE) president Enrique de Castro told the evaluation team: "the Livestock Field School methodology is here to stay."
—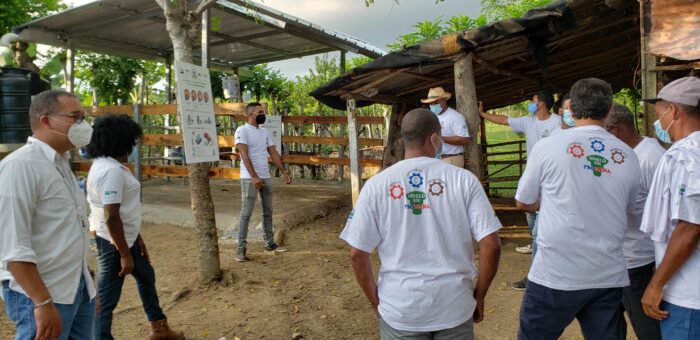 Las escuelas de campo ganaderas ECAG y las fincas demostrativas en la República Dominicana conducen a una producción de leche de alta calidad para los ganaderos.
Durante mucho tiempo, el subsector ganadero en la República Dominicana ha sufrido una falta de conocimiento, acceso a asistencia técnica y entrenamiento en mejores prácticas. Esto ha llevado a niveles bajos de productividad y calidad de la leche en comparación con otros países de la región. Para abordar estos desafíos, el proyecto Fortaleciendo la Cadena de Valor Ganadera en RD PROGANA (SAFE, por sus siglas en inglés) financiado por el Departamento de Agricultura de los EE. UU. (USDA) implementado por NCBA CLUSA inició una metodología de escuela de campo para ganadería (ECAG), que combina entrenamientos grupales basados en la práctica junto a visitas individuales a finca para confirmar aplicación de lo aprendido.
Cada dos semanas, grupos de agricultores se reunían en "fincas demostrativas", seleccionadas entre los participantes, para aprender a través de experiencias prácticas y compartidas, facilitadas por el personal del proyecto Progana y los extensionistas públicos y privados. La ECAG utiliza un enfoque de 80% práctico y 20% teórico, combinado con el programa de coinversión productivo (PCP) proporcionado a través del programa de coinversiones del Progana para proporcionar a los ganaderos los insumos necesarios a través de un paquete de semillas de pastos, fertilizantes, bidones, kit para ordeño higiénico (según la unidad diseñada por la Empresa Brasileira de Pesquisa Agropecuária (EMBRAPA) que se utiliza para limpiar los pezones y mejorar la higiene durante el ordeño), lonas para silos y otros insumos para ganado de carne. Los temas de entrenamiento se enfocan en calidad de leche, reproducción, alimentación, sanidad, y administración de fincas, con énfasis en las mejores prácticas ganaderas.
Progana adaptó la metodología de las escuelas de campo, desarrollada por la Organización de las Naciones Unidas para la Agricultura y la Alimentación (FAO) hace 30 años, para satisfacer las necesidades de los ganaderos dominicanos. La evaluación final del proyecto, realizada por evaluadores externos Just Results, encontró que el enfoque de ECAG ha sido un logro importante a los ojos de los ganaderos, asociaciones, cooperativas y otros actores en la cadena de valor ganadera.
El aumento de la productividad de la leche para los ganaderos participantes fue un indicador clave del éxito. Tanto los ganaderos como los extensionistas agradecen a la metodología de la ECAG por los importantes avances en la adopción de las tecnologías. Estudios realizados por el proyecto mostraron que los ganaderos que aplicaron las tecnologías aumentaron la producción de leche en un promedio de 23%, de 5,8 a 6,38 litros por vaca por día, en comparación con los ganaderos que no aplicaron tecnologías (tamaño de muestra de 1046). La evaluación final encontró mejoras similares, y los ganaderos que participaron durante períodos de tiempo más largos a menudo vieron aumentos aún mayores en la productividad del 50% y más.
Los agricultores encuestados para la evaluación final respaldaron abrumadoramente la metodología de las ECAG y la asistencia técnica asociada. Los grupos focales realizados con ganaderos y extensionistas enfatizaron el impacto de la ECAG en las mejoras en la productividad y calidad de la leche. La encuesta de evaluación mostró que el 78% de los ganaderos dijeron que las ECAG eran beneficiosas para ellos, y el 75% atribuyó al Progana el aumento de la productividad de su finca.
Los agricultores que participaron en Progana también percibieron que las actividades del proyecto conducían directamente a un aumento de los ingresos familiares (71%) y un aumento de las ventas (73%).
El apoyo continuo a los extensionistas privados a través de asociaciones y cooperativas será fundamental para que las ECAG se mantengan más allá del final del Progana. También hay discusiones en curso sobre la implementación de la metodología de las ECAG para extensionistas del sector público a nivel nacional. En cualquier caso, como dijo al equipo evaluador el presidente de ASOCARNE (asociación de ganaderos de carne que trabajaba en estrecha colaboración con Progana), Enrique de Castro: "la metodología de la Escuela de Campo Ganadera (ECAG) está aquí para quedarse".