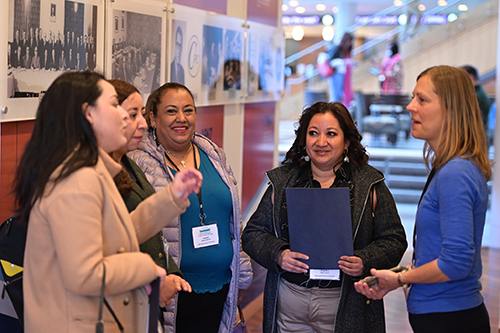 I had the opportunity to hear from a great co-op leader recently, and I am interested in what you think about his message. Tony Budet just stepped down from his roles of Chair of the board of the Credit Union National Association (CUNA) and as CEO of the University Federal Credit Union in Austin, Texas—one of the largest credit unions in the state. His message for co-op executives: Be a "look up and out leader."
He shared that one of his great learnings over a decorated and impactful career was that as people, we make a much greater impact if we focus more on our external relationships in our community and beyond. These relationships foster learning, create inspiration and offer opportunities for us to tell our own story. The relationships could be with policymakers, other community members, or cooperative leaders from other sectors. Tony makes that point that by "looking up and out," we are much more effective carrying out the 7th Cooperative Principle of "concern for community." 
Let me add another cooperative principle to this notion: the 6th Cooperative Principle of "cooperation among cooperatives." As cooperators, you have an opportunity to create a relationship with people from other sectors that share some key characteristics: mission to serve their members and their governance structure. And by doing so, you can make greater community impact, all while growing your co-op's influence and business. 
As a co-op leader, your business exists to serve the members and their communities over the long-term. Typical for-profit businesses exist to create profit for their investors. While it may make sense for non-co-ops to project that they prioritize other stakeholders—such as workers, customers or the community—the fact is they do so because it serves the financial interests of the investors to look like more responsible businesses. Prioritizing the outside investors is in their DNA. They must twist themselves into a pretzel to pretend otherwise. 
You, on the other hand, have the chance to lean into your cooperative identity of member-centric service. You do not need to pretend—you have the chance simply to be authentic to the business model.  
Tony made the point that we do this by telling our story—a story that might include traditional metrics of size and net operating income, but more importantly includes quantitative and qualitative measures that show how we impact the lives of our members and the broader community. How many more households have access to reliable transportation so they can get to work because of better loan rates at their credit union? How many rural businesses have access to state-of-the-art broadband so they can fully participate in today's economy because of their rural electric co-op? How many families have access to healthy and nutritious food because of new initiatives at their food co-op? 
How can you create the most compelling co-op story? Look up and look out to other cooperatives both within and beyond your sector.  
How can you create the most compelling co-op story? Look up and look out to other cooperatives both within and beyond your sector.  
I observed a great example of Principle 6 last week at the Cooperative Development Foundation (CDF)'s annual Home Care Worker Cooperative Conference in Northern Virginia at the headquarters of the National Rural Utilities Cooperative Finance Cooperation (CFC), a finance cooperative owned by the rural electric cooperative network in the U.S. with more than $31 billion in assets. For seven years straight, CFC has hosted around 100 people who are on the front lines of establishing a new sector within the cooperative community, worker-owned home care cooperatives. While CFC provides great value to this group of mostly women and BIPOC cooperators by making it possible for them to come together to learn from each other and accelerate their growth trajectory, the members of CFC will also benefit from this relationship. CFC's members are cooperatives owned by people in the rural U.S., a place suffering from a crisis of access to long-term and home-based care. By supporting the development of the new sector that has a relatively robust presence in rural communities, CFC is serving the long-term interest of these communities. 
In another example, Seattle-based BECU, one of the largest credit unions in the country, is also one of the major partners to the REI Cooperative Action Fund, the nonprofit focused on ensuring that all people have access to nature and a thriving outdoor spaces—especially those in communities that have been historically shut out from such access. By working together, these two major co-ops in the region extend and amplify their impact. In another example, BECU is partnering with one of the larger consumer food cooperatives, PCC, to offer discounts on purchases and membership at the food co-op. This tangible tactic provides a benefit to BECU members while growing membership for PCC.  
At NCBA CLUSA, we continue to work toward our 107-year-old mission of promoting, defending and developing cooperatives. And we do it by breathing life into our vision of helping more people use cooperatives to build a more inclusive economy—one that is more participatory, equitable, sustainable, stable and grows for everyone. I believe that the only way for the cooperative community to forward this mission and realize this vision is if we work together. Or as Tony Budet put it, if we become "look up and look out leaders." 
How are you looking up and out to maximize your co-op's impact? Let us know how you're practicing Principle 6 for a chance to be featured in an upcoming edition of Co-op Weekly.
—Doug O'Brien is president and CEO of NCBA CLUSA, where he works with the cooperative community to deepen its impact on the economy.