With the inaugural Co-op IMPACT Conference less than two months away, NCBA CLUSA is excited to highlight some of our best-in-class speakers this week. They'll be presenting the compelling programming we're lining up to make IMPCT 2017 this year's premier networking and learning event for co-op members, practitioners and advocates.
Learn more about each speaker below, and look for more speaker highlights in the coming weeks!
If you haven't already registered, click here to join NCBA CLUSA and our co-host the National Cooperative Bank for this event. NCBA CLUSA will honor early-bird registration rates for IMPACT 2017 through Friday, August 25. Registration will increase by $200 after this cut-off.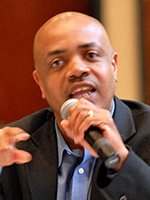 Cornelius Blanding
Cornelius Blanding is Executive Director of the Federation of Southern Cooperatives/Land Assistance Fund. Prior to serving as the Federation's Director of Marketing and International Development, Blanding was a development project manager for nearly a decade, spearheading special initiatives in Africa, the Caribbean and the southern U.S., including disaster relief initiatives after Hurricane Katrina and the 2010 earthquake in Haiti. Blanding also directed a U.S. Department of Labor funded rural workforce development project, and headed a project with the Natural Resources Conservation Service on conservation practices and easements for Federation member farmers. Blanding works closely with the Federation's Cooperative Development Team in nationally and internationally promoting the cooperative movement.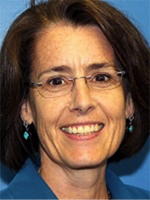 Maureen Conway
Maureen Conway is Vice President for Policy Programs at the Aspen Institute and Executive Director of the Institute's Economic Opportunities Program (EOP). Conway founded EOP's Workforce Strategies Initiative (AspenWSI) and has headed up workforce research at the Aspen Institute since 1999. She leads a team of researchers and consultants in a variety of initiatives to identify and advance strategies that help low-income Americans gain ground in today's labor market. A featured speaker at numerous national and regional conferences, she is a nationally recognized expert in industry-specific workforce development and has been quoted in a variety of news media including the New York Times, Wall Street Journal, National Journal and National Public Radio's Marketplace. Under her leadership, EOP's Workforce Strategies Initiative has investigated the outcomes of sectoral workforce development, provided innovation seed grants to leading programs in order to illuminate promising practices and explored key operating features of programs in specific industry sectors. Recently, Maureen led the creation of the Working in America and Reinventing Low Wage Work speaker series at the Aspen Institute, bringing together voices from business, worker advocacy, media, academia and others to discuss the challenges experienced by many in today's labor markets and new ideas for addressing these challenges.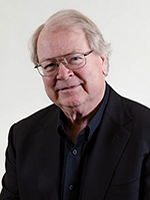 Michael L. Cook
Michael L. Cook is the Robert D. Partridge Endowed Professor in Organization Economics in the Division of Applied Social Sciences at the University of Missouri. His research activities include work in more than 60 countries and 100 published works. Cook is a Senior Fellow with the Contracting and Organizations Research Institute (CORI) at MU. His primary research addresses the ownership costs of vaguely defined property rights in patron-owned and controlled enterprises. Cook's greatest interest is in developing a global network of scholars and practitioners with interest in understanding the strengths and challenges confronted by patron-owned organizations in food and fiber chains. This interest allows him to travel the world to conduct and share comparative studies regarding how institutions of collective action lead to improvement of the socio-economic well-being of their patron-owners. This research and outreach work is embedded into programs of the Graduate Institute of Cooperative Leadership (GICL), for which he serves as Executive Director. In May 2012, Cook was inducted into the Cooperative Hall of Fame; in 2015, he received the Frederick B. Mumford Outstanding Faculty Award.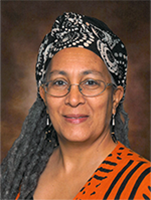 Jessica Gordon Nembhard
A cooperative ambassador, political economist and community economic development expert, Dr. Jessica Gordon Nembhard is author of Collective Courage: A History of African American Cooperative Economic Thought and Practice (Pennsylvania State University Press, 2014). The result of 15 years of incisive research, the book solidifies Gordon Nembhard as a historian of cooperative empowerment and transformation within low-income and minority communities. Gordon Nembhard is Associate Professor of Community Justice and Social Economic Development in the Department of Africana Studies at John Jay College, City University of New York (CUNY); Director of John Jay's McNair Post-Baccalaureate Achievement Program; and an affiliate scholar with the Centre for the Study of Co-operatives at the University of Saskatchewan, Canada. She is also a 2016 inductee to the Cooperative Hall of Fame.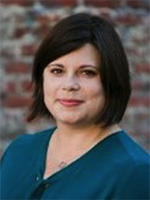 Melissa Hoover
Melissa Hoover is the founding Executive Director of the Democracy at Work Institute, the think-and-do-tank that expands worker cooperatives as a strategy to address economic and racial inequality. A leader in the worker ownership movement for over 15 years, Melissa helped start and grow the U.S. Federation of Worker Cooperatives, the national grassroots membership organization for worker-owned businesses. She was a cooperative business developer for many years with the Arizmendi Association of Cooperatives in Oakland, doing business and capital planning, training cooperative members, and serving as CFO in the first year of each startup's operations. She currently sits on the Board of Directors of The ICA Group/Local Enterprise Assistance Fund, The Working World and Safe Passages, and serves as a strategic advisor to foundations, investors, nonprofits, unions, local governments and other organizations that want to incorporate worker ownership into their economic development and community wealth-building programs.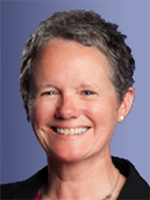 Rosemary Mahoney
Rosemary Mahoney is Principal of Mahoney Consulting, LLC and specializes in nonprofit and cooperative business planning and strategic advising. She brings 30 years of experience both as a cooperative CEO and a nonprofit executive director to her work, which includes international cooperative development projects and cooperative and nonprofit projects in the U.S. Mahoney brings strong volunteer management experience and an international perspective to her nonprofit consulting via her current work with the International Finance Corporation and her former work as Regional Director for Volunteers in Overseas Cooperative Assistance in the Czech Republic, Slovakia and Hungary. Mahoney is the former CEO of CoMetrics. Prior to joining CoMetrics, Rosemary worked as a consultant on international cooperative development projects and cooperative business development projects in the United States. She was a founding partner of MainStreet Cooperative Group, LLC, director of New Venture Development for Cooperative Solutions, LLC, and executive director of Cooperative Development Services (CDS).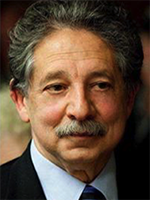 Mayor Paul Soglin
Mayor Paul Soglin is the 51st, 54th and 57th Mayor of Madison, elected for tenures in 1973, and again in 1989 and 2011. He is now serving in his 20th year. His tenure is noted for a major commitment to public transit with record setting Madison Metro ridership levels; the design and construction of the State Street Mall, resulting in one of the strongest downtown locally owned retail sectors; and the development of Madison's Civic Center, which evolved into the Overture Center for the Arts. Mayor Soglin's priorities include measuring city projects against the finest standards for livability, equity and sustainability, and ensuring that all basic needs are within walking distance of every neighborhood. He believes that a healthy city with a strong inclusive economy is based on creating a sense of place, walkability and social cohesion. During his tenure, Madison was ranked the best city in the United States by Money Magazine, Livability and the AngelouEconomics (AE) 2015 Community Progress Index. Under Mayor Soglin's leadership, Madison is committed to creating a food accessible community, building public markets and food hubs, and eliminating the critical racial and ethnic disparity in educational achievement, income, jobs, housing and incarceration.