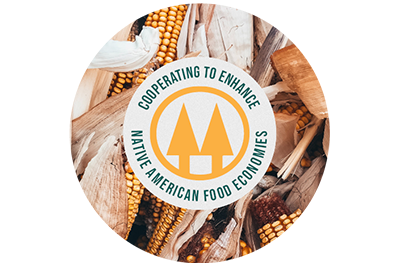 The Native American Agriculture Fund (NAAF), Cooperative Development Foundation (CDF) and the National Cooperative Business Association CLUSA International (NCBA CLUSA) are pleased to announce the speakers for a webinar series on enhancing Native American food systems through cooperatives.
Scheduled for August 2-5, 2021 from 12-2:30 pm EDT each day, "Cooperating to Enhance Native American Food Economies" will begin with an overview of Reimagining Native Food Economies: A Vision for Native Food and Agriculture Infrastructure Rebuilding and Recovery. Published by NAAF, this report provides an infrastructure framework to harness Indian Country's economic and nutritional potential to recover from COVID-19 and propel sustainable rural economic development.
This webinar series will also address food hubs and cooperatives, opportunities and challenges for cooperatives in Indian Country, and imagining a cooperative Native food system. Speakers include Janie Simms Hipp, CEO of NAAF and citizen of the Chickasaw Nation, and Doug O'Brien, president and CEO of NCBA CLUSA. Meet all the speakers below.
MEET THE SPEAKERS
Cornelius Blanding
Executive Director
Federation of Southern Cooperatives/Land Assistance Fund
Jackson Brossy
Executive Director
Native CDFI Network
Dave Carter
Principle
Crystal Springs Consulting
Zach Ducheneaux
Administrator, Farmer Service Agency
U.S. Department of Agriculture
Colby Duren
Director of Policy and Government Relations
Intertribal Agriculture Council
Dr. Murry Fulton
Director and Professor, Johnson Shoyama Graduate School of Public Policy
University of Saskatchewan, Saskatoon
Janie Simms Hipp, J.D., LL.M.
CEO
Native American Agriculture Fund
Chris James
President and CEO
The National Center for American Indian Enterprise Development
Stacy Leeds
Foundation Professor of Law and Leadership, Sandra Day O'Connor College of Law
Arizona State University
Sandy Martini
Senior Director, Compliance and Operations
Native American Agriculture Fund
James Matson
Owner and Principle
Matson Consulting
Jerry McGeorge
Executive Vice President of People
Organic Valley
Kathleen Merrigan
Executive Director, Swette Center for Sustainable Food Systems
Arizona State University
Karli Moore
Program Officer
Native American Agriculture Fund
Dr. Karama Neal
Administrator, Rural Development-Cooperative Service
U.S. Department of Agriculture
Doug O'Brien
President and CEO
NCBA CLUSA
Trista Pewapisconias
Indigenous Relations Lead
Co-operatives First
C. E. Pugh
Chris Roper
Indigenous Agriculture, LLC
Pamela Standing
Director
Minnesota Indigenous Business Alliance
Toni Stanger-McLaughlin, J.D.
Regional Director and Federal Liaison
Native American Agriculture Fund
Heather Dawn Thompson
Director, Office of Tribal Relations
U.S. Department of Agriculture
Duane Wilson
Vice President of Stakeholder Relations
Arctic Co-operatives Limited
Felipe Witchger
Executive Director
Community Purchasing Alliance
---
The Native American Agriculture Fund (NAAF) provides grants to eligible organizations for business assistance, agricultural education, technical support and advocacy services to support Native farmers and ranchers. NAAF is the largest philanthropic organization devoted solely to serving the Native American farming and ranching community.