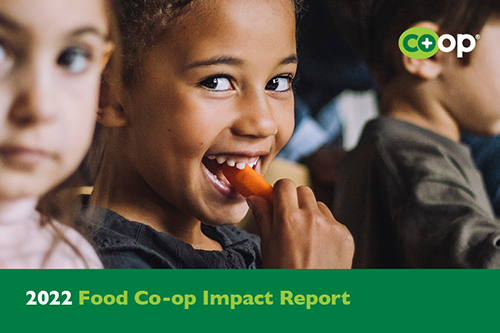 Demonstrating their ongoing commitment to improving social and environmental wellbeing, National Co+op Grocers (NCG) has earned its recertification as a Certified B Corporation (B Corp).
The recertification confirms NCG's place among 6,557 B Corps in 89 countries that seek to drive a global movement of people using business as a force for good. All B Corps must meet the highest standards of verified social and environmental performance, public transparency to balance profit and purpose.
NCG first earned B Corp certification in 2011, and the cooperative's commitment to B Corp goes well beyond the certification process. In 2022, NCG's food co-ops sold more than $121 million of products from fellow B Corps.
"Cooperative businesses, like NCG and the 159 retail food co-ops we serve, are intrinsically aligned with many of B Lab's positions on governance and social impact," said C.E. Pugh, NCG CEO. "What's more, a key reason that communities organize and open food co-ops is because they want a more inclusive local food system and economy. Case in point, the average NCG food co-op works with 281 local producers in its community, connecting metro and rural areas."
B Lab's mission explains, "economic systems were built by people and they can be changed by people," a sentiment shared by many of those in the cooperative business movement. B Corps and cooperatives have a unifying goal to demonstrate that it is possible to succeed financially while creating opportunity for all people of all backgrounds and experiences to live with dignity, to support themselves and their families, and to help their communities thrive.
In this year's recertification process, NCG's top scoring categories were Governance and Workplace, though NCG performed well across all of the B Impact Assessment's categories:
Workplace

Metrics related to compensation, benefits and training, worker ownership and work environment

Governance

Metrics related to accountability, transparency

Community

Metrics related to community products and services, practices, suppliers and distributors, local sourcing, diversity, job creation, civic engagement and charitable giving

Environment

Metrics related to environmental products and services, land, office, physical plant, inputs, outputs, transportation, distribution and suppliers