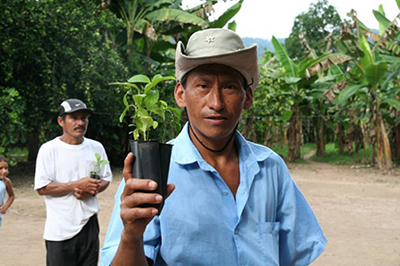 As fires continue to burn through regions of the Amazon rainforest, cooperatives are coming together internationally to address the climate crisis by implementing solutions to restore this essential asset of our global ecosystem.
To mark Co-op Month and Fair Trade Month, both observed in October, National Co+op Grocers (NCG) today announces the planting of more than 10,300 trees in the Peruvian Amazon rainforest. This ecological investment is part of the cooperative's Co+op Forest program, a long-standing carbon offset program empowering fair trade farmer cooperatives within NCG's supply chain that are pursuing reforestation, agroforestry and rainforest conservation in the Peruvian Amazon.
"The current ecological crisis in the rainforest underscores the importance of our partnership with farmers working to protect the Amazon," says C.E. Pugh, CEO of NCG. "As a cooperative business, we have a responsibility to care for community and support other cooperatives. Working with our supply chain to develop solutions to the climate crisis is work we pursue on behalf our members co-ops."
In recent months, NCG has planted 3,270 trees in the San Martin region of Peru to offset 1,090 tons of CO2 emissions associated with its 2018 business travel and utilities. Due to the urgent and critical need for investment in rainforest regeneration, NCG increased its contribution this year with the planting of an additional 7,000 trees in partnership with the fair trade farmers who rely on this region for their livelihood. Rounding out NCG's 2019 investment, 82 trees will be planted as part of the Finca a la Media program, an incubator project for fair trade farmers who want to diversify their farms by adopting agroforestry techniques.
"We and the fair trade farmers we work with in Peru are invigorated by NCG's continued commitment to taking responsibility within their international supply chain to invest in farmer livelihood and environmental resiliency." Says Mathieu Senard, co-founder of PUR Projet, the international organization NCG partners with to plant Co+op Forest. "Food co-ops have long been committed allies of fair trade cooperatives and farmers, it is wonderful to see them working together to elevate their impact in this way."
Their 2019 investment is NCG's seventh annual contribution to the program pioneered by PUR Projet in partnership with cocoa co-ops in and around San Martin. To date, NCG's offsets and additional contributions have facilitated the planting and/or conservation of nearly 2 million trees in the Amazon.
See a full timeline of food co-ops' investment in Co+op Forest through the years and learn more about how co-ops are building a better supply chain.
About NCG
National Co+op Grocers (NCG), founded in 1999, is a business services cooperative for retail food co-ops located throughout the United States. NCG helps unify food co-ops in order to optimize operational and marketing resources, strengthen purchasing power and ultimately offer more value to food co-op owners and shoppers everywhere. Our 148 member and associate co-ops operate more than 200 stores in 38 states with combined annual sales over $2.1 billion. NCG is a winner of the dotCoop Global Awards for Cooperative Excellence and a Certified B Corporation.  Find a map of NCG member and associate co-ops. To learn more about co-ops, visit www.strongertogether.coop.