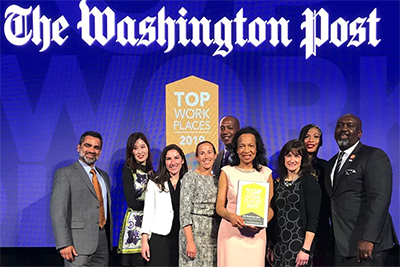 National Cooperative Bank (NCB), a leading financial institution serving cooperatives, their members and socially responsible organizations nationwide, was named one of The Washington Post's 2019 Top Workplaces in the Washington, DC area in the mid-size companies category last month. This is the sixth year in a row NCB has been honored as a top workplace.
The Top Workplaces are determined based solely by an anonymous employee feedback survey conducted in partnership with third-party employee engagement firm Energage, LLC. The firm measured several aspects of workplace culture, including alignment, execution and connection.
"Being named a Top Workplace for the sixth consecutive year is a great accomplishment for our organization," said Charles E. Snyder, president and CEO of National Cooperative Bank. "I am proud that our employees enjoy the work they do and the culture of our organization. As a socially-responsible, cooperatively-owned financial institution, the principles of collaboration, impact and community are at the heart of our mission."
"The Post's Top Workplaces list continues to reflect companies in the region that cultivate a connection with their workforce," Washington Post Top Workplaces Editor Dion Haynes told reporters. "It's clear from the survey that these organizations share a commitment to providing support and an environment that makes employees feel valued and respected."
The complete list of Washington, DC Top Workplaces was published on June 21, 2019 by The Washington Post.