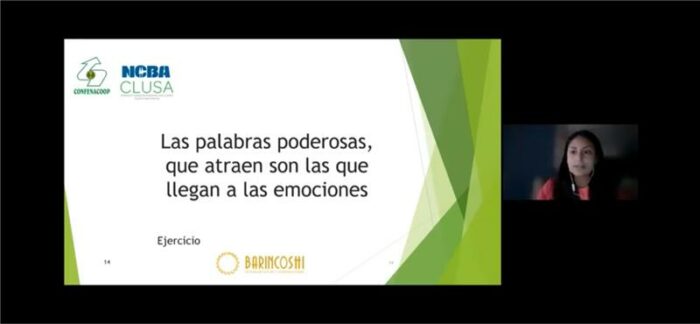 Peru's cooperative sector was hit extremely hard during the COVID-19 pandemic and continues to struggle with associated economic and societal shocks. Despite these severe challenges, Peru's cooperative sector has also shown resiliency. To provide critical information and continuous learning during this difficult time, NCBA CLUSA's Creating an Environment for Cooperative Expansion (CECE) project, funded by the U.S. Agency for International Development (USAID) Cooperative Development Program (CDP) partnered with Peru's National Confederation of Cooperatives (CONFENACOOP) to provide numerous virtual learning events and webinars.
These virtual learning events were a way for CONFENACOOP to continue its mission of integrating and strengthening the cooperative sector in Peru during an unprecedented period. CONFENACOOP's primary objective is to improve the cooperative environment by addressing the macro, intermediate and grassroots levels of cooperative development in Peru. CONFENACOOP works with many partners to promote modernization of the national cooperative law and mobilizes cooperative stakeholders for legislative improvements. As an advocate for cooperatives, CONFENACOOP works with government representatives to encourage policy changes that favor the cooperative business model.
In 2021, the CECE project organized seven cross-sectoral workshops with the Ministry of Production (PRODUCE) and CONFENACOOP to share and obtain feedback on a revised cooperative law. Three international cooperative law experts were also engaged in the drafting process. The proposed law advocates for cooperative purchasing norms from the government to promote innovation and business development within the cooperative sector.
During this time, CONFENACOOP also facilitated 14 virtual learning events on the cooperative model where they engaged cooperative unions from Argentina, Uruguay, Paraguay, and Mexico to promote regional learning exchange. These virtual events focused on topics such as cooperative horizontal integration, cooperative governance, the new cooperative law reform project, stress management during COVID-19, inclusion of young people and women, and financial management.
Given this impactful relationship between CONFENACOOP and the CECE project, NCBA CLUSA is excited to announce that it is taking this collaboration to the next level. In February 2022, CONFENACOOP officially became a subawardee of the CECE project. Over the next year and a half, CONFENACOOP will host 24 virtual training events on the cooperative business model and cooperative integration to support its members. As an apex cooperative in Peru, CONFENACOOP looks forward to expanding its institutional capabilities and developing capacity to access and manage external funds and resources to better serve its cooperative members and the cooperative sector as a whole. Ultimately, through this partnership with the CDP program, CONFENACOOP seeks to grow as a leader in the cooperative movement and strengthen Peru's cooperative sector.