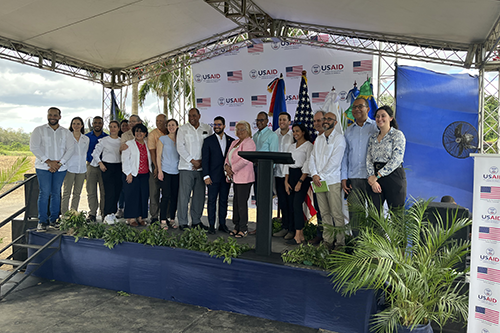 The National Cooperative Business Association CLUSA International (NCBA CLUSA) joined the U.S. Agency for International Development (USAID) in the Dominican Republic to launch our new USAID-funded Resilient Agriculture Activity (RAA) at an event in Santo Domingo today.
The two-year, $2.7 million activity in the Dominican Republic will directly address the spike in food prices, crude oil and commodities—including fertilizers and other common agricultural inputs—due to supply chain disruptions resulting from the Russian invasion of Ukraine and the Covid-19 pandemic. RAA will focus on soil fertility and fertilizer best practices, other climate-smart agriculture practices and local, organic fertilizer production.
"The new Resilient Agriculture Activity was designed to continue our commitment to support food security through sustainable development and will be led locally in the Dominican Republic," said Robert W. Thomas, U.S. Embassy Chargé d'Affaires in Santo Domingo. Thomas added that the activity is a direct response to Dominican Republic President Luis Abinader's request to address price instability and food insecurity resulting from Russia's invasion of Ukraine.
The U.S. Government is committed to supporting Dominican farmers by promoting innovation, enabling broader access to sustainable finance and improving agricultural practices. "This support, through our new project, will help ensure food security, climate resilience and a robust economy in the Dominican Republic," Thomas said.
By moving away from reliance on imports for fertilizer and other agricultural inputs, the Dominican Republic will strengthen its autonomy and resilience, create more employment opportunities and produce high quality, organic agricultural products.
"This initiative is important because it goes hand-in-hand with the Dominican Government's policy of protecting consumers and food producers—especially in our current context in which the raw materials needed for production in the field are now more expensive," Minister of Agriculture Limber Cruz said.
During the event, producer organizations, private sector partners and representatives from Plan San Juan participated in a panel discussion. The group discussed innovations in agricultural development in the southern region of the Dominican Republic.