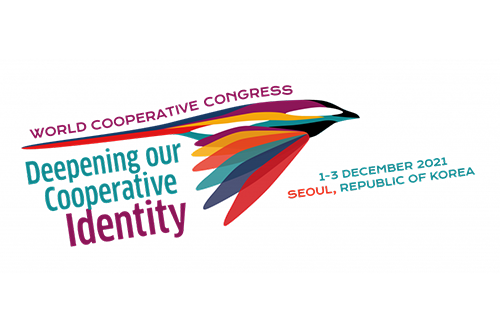 Registration for attending the International Cooperative Alliance (ICA)'s 33rd World Cooperative Congress in person is now closed, but you can still join the global cooperative community virtually! Don't miss this pivotal conversation on how co-op identity can help us rebuild better together and overcome crises with solidarity and resilience.
Register now to participate virtually
This year's congress marks both the 125th anniversary of the ICA, which was founded in 1895 to promote the interests of cooperatives worldwide, and the 25th anniversary of the adoption of the ICA Statement on the Cooperative Identity, which was adopted in September 1995.
The World Cooperative Congress will feature a series of sessions exploring how to deepen the cooperative identity by examining its values, strengthening its actions, committing to its principles and living its achievements. The event will also look at how to address challenges such as the COVID-19, climate change, sustainable development, peace and equality, the future of work, housing and renewable energy.
Please note that all conference sessions will take place in Seoul's local time zone, Korean Standard Time (GMT+9). Virtual attendees will have access to the full conference program. If you miss a live session, recordings will be available online at a later date. Learn more about attending virtually here.
Doug O'Brien, president and CEO of NCBA CLUSA, will lead a robust delegation from the United States to the World Cooperative Congress. Keep reading to see how NCBA CLUSA leadership and supporters are participating in this event.
November 28
At 09:00 Seoul time, Erbin Crowell, Executive Director of the Neighboring Food Co-op Association, will participate in a panel called "How Does Co-op Identity Connect to the Enterprise Model as a Model?" Cooperatives are values-based businesses jointly owned and democratically controlled by their members. Centered on people's needs, rather than capital, cooperatives often address social and economic injustices. The purpose of cooperatives as self-help organizations may be misconstrued, particularly in contexts of complexity, growth and isomorphic pressures. This panel will explore the advantages of the cooperative model, addressing the question: How do cooperatives operationalize their "cooperative identity"? Crowell's remarks will focus on Principle 6 as a tool for reinforcing cooperative identity, increasing our collective impact and leading on the critical challenges and opportunities of the moment. Karen Miner, managing director of the International Centre for Co-operative Management at Saint Mary's University, and Sonja Novkovic, professor of Economics and academic director of the International Centre for Co-operative Management at Saint Mary's University, are also panelists for this session.
November 30
At 14:30 Seoul time, Howard Brodsky, CEO of CCA Global Partners, will speak on a panel called "Promoting the Cooperative Identity in the G20." Brodsky is also chair of the ICA G20 Working Group. Established in 2021, this group enhances the participation and recognition of cooperatives' contribution to sustainable development by the world's largest economies.
Then at 15:00 Seoul time, Karen Zimbelman, director of Membership and Cooperative Relations at National Co+op Grocers (NCG), will moderate "Introduction to the International Cooperative Entrepreneurship Think Tank (ICETT) and Launch of the World Cooperative Monitor 2021." Established in 2018 by ICA, ICETT aims to strengthen cooperatives' business performance by seeking and using innovative ideas, research, education and cooperation to address the challenges that cooperative enterprises are facing. The think tank acts as a hub to offer strategic thinking on cooperative entrepreneurship to demonstrate that the co-op business model is a key differentiator for entrepreneurial competitiveness. NCG has been an ICETT participant since 2021. Martin Lowery, chair of the ICA's 33rd World Cooperative Congress Task Force and ICA Identity Committee, is among panelists for this session.
At 16:30 Seoul time, Martin Lowery will moderate "Conclusions of the ICA Cooperative Research Conference and International Cooperative Law Forum." Open to all Congress participants, the main findings of the two research events scheduled for November 28-30 will be discussed. In particular, the importance of research on cooperative identity will be discussed and the impact of this research on the daily operations of cooperatives in all sectors will be discussed. Sonja Novkovic of the International Centre for Co-operative Management is a panelist for this session.
December 1
At 14:00 Seoul time, Ann Hoyt, chair of Group Health Cooperative of South Central Wisconsin's Board of Directors, is a panelist on "Examining Our Cooperative Identity Through Inclusive Governance." Participation and inclusion of cultural, gender and age diversity are fundamental for sound cooperative governance, and they are at the heart of our cooperative identity. To keep these characteristics alive, we must continuously question ourselves: Are we inclusive enough? What can we do to keep the cooperative identity appealing to everyone? How do we make sure our governance practices are inclusive and welcoming to all?
Also at 14:00 Seoul time, Karen Miner and Sonja Novkovic of the International Centre for Co-operative Management will participate in "Examining Our Cooperative Identity Through Educational Opportunities." Cooperative Principle #5 provides cooperatives with the basis to prioritize education, training and information for all. It's necessary to make cooperative curricula commonly and readily available at all levels of educational institutions—from elementary and secondary schools to college and university degree programs. What are the best examples? What have we learned from them? How can they be disseminated faster?
Then at 16:00 Seoul time, Tamela Blalock, vice president of Cooperative Relations at NCBA CLUSA, is a panelist on "What Emerges from the Plenary Session and Parallel Sessions?" moderated by Martin Lowery.
December 2
At 12:40 Seoul time, Martin Lowery will moderate "What Emerges from the Plenary Session and Parallel Sessions?"
At 14:40 Seoul time, Bill Cheney, president of SchoolsFirst Federal Credit Union and board member of the Worldwide Foundation for Credit Unions, the philanthropic arm of the World Council of Credit Unions (WOCCU), is a panelist on a roundtable called, "Committing to Our Cooperative Identity for a Positive Global Change." Inclusion and humanity are at the core of our identity, making cooperatives a valuable tool in the construction of positive peace. We respond to the needs of refugees, rebuild after natural disasters, look after the most vulnerable, and respond to the ravages of a global pandemic. These crises are constantly threatening an increasingly globalized economy. How can cooperatives work together to bring about positive and lasting change in the world?
Then at 16:40 Seoul time, Camila Piñeiro Harnecker, practice area director for Strengthening Cooperatives and Producer Organizations at NCBA CLUSA, is a panelist on "Committing to Our Cooperative Identity for Cooperative Development around the World." By giving local communities direct control over their destiny—whether in agricultural production, health, housing, education, industry, retail, banking or energy—cooperatives play a decisive role in the world economy. There are lessons to be learned from successes and failures in international cooperative development. What lessons have been learnt from the ICA-EU Partnership program in cooperative development? How have the values and principles that are part of the cooperative identity informed this process?
December 3
At 09:10 Seoul time, Martin Lowery will moderate "What Emerges from the Plenary Session and Parallel Sessions?" featuring an interview with session delegates.
Finally, at 16:10 Seoul time, Martin Lowery will present "Congress Preliminary Conclusion."