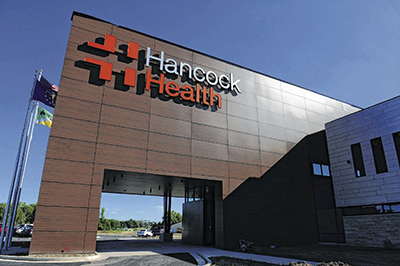 An Indiana multiservice cooperative is leveraging its fiber network to provide a rural community easier access to state-of-the-art healthcare services with a project that also will lay the groundwork for future economic growth.
NineStar Connect, an NCBA CLUSA member located outside Indianapolis, will pass through $2.3 million in federal loans and grants to help a regional hospital system build an urgent care and diagnostic center in an underserved part of Hancock County. The Greenfield-based co-op received the funds from the Rural Economic Development Loan and Grant Program sponsored by the U.S. Department of Agriculture.
Hancock Health will use the REDLG funds to buy MRI machines, CAT scanners and other medical equipment for the facility, which will connect to NineStar's broadband fiber network.
The Hancock Gateway facility opened earlier this month, providing residents in the growing Mt. Comfort Corridor community quicker access to high-quality care, said Steve Long, president and CEO of Hancock Health and Hancock Regional Hospital. The facility also is expected to provide 27 high-paying medical positions.
As families and individuals shoulder more out-of-pocket expenses due to high-deductible health plans, "they often decide to forgo needed care, or they search for lower-cost options [at] imaging facilities located in strip malls utilizing older, lower-resolution imaging equipment," Long said. "Our new facility combines hospital-quality imaging and lab equipment in a much lower-cost environment, which will allow us to price our services on par with lower-quality providers."
The $12 million health facility is the first phase of a broader economic development strategy outlined in a 2019 Urban Land Institute report for sustained, controlled growth in the Mt. Comfort Corridor, a 13-mile stretch in Hancock County. Since 2000, NineStar Connect, which also provides water and sewer services, has been a partner, along with Hancock Health, the Greenfield Banking Company and town and county officials.
The plan's second phase calls for a campus with mixed-use development, including commercial, retail and affordable housing.
"A lot of our strategic focus has been on what can we do to create a better quality of life for the people that we serve," said Mike Burrow, the co-op's president and CEO. "NineStar's role in that is the fact that we have a very extensive fiber network."
Burrow said the co-op's fiber-optic investments have kept pace with the hospital's growth in a booming Hancock County.
"I give the hospital very high marks because they've truly embraced our fiber network and have continued to look at very creative ways they can embrace technology, leveraging our fiber network," Burrow said. "A lot of county hospitals across the United States, and even in Indiana, are closing because of lack of technology," he added.
Earlier this year in Greenfield, NineStar Connect created Idea Co-op, a co-working office and technology campus to help entrepreneurs launch new ventures. Its fiber-optic network is a big selling point for people who want to work and live outside Indianapolis.
"The impact of NineStar Connect on the quality of life of residents of Hancock County, especially those in rural areas, cannot be overstated," Long said. "The entire county has the ability to connect to fiber-optic-based broadband services, allowing every individual to be fully connected to the internet with speeds in the home exceeding the speeds businesses in other communities only dream of. It is hard to think of a stronger partner."