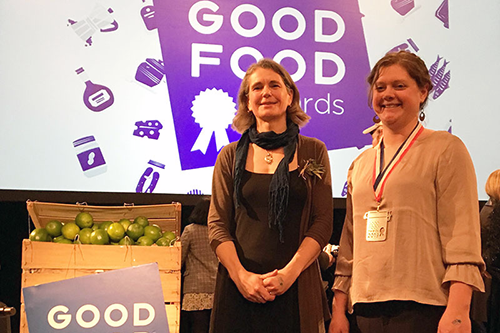 NCBA CLUSA member Real Pickles announced last week that its Organic Garlic Dills and Organic Garlic Kraut received top honors at the 2019 Good Food Awards.
The winners were announced January 11 at a 900-person gala at the historic San Francisco War Memorial & Performing Arts Center. The Good Food Awards recognize American food and drink crafters who create tasty, authentic and responsible products and, in doing so, better the nation's food system. Real Pickles co-owners Kristin Howard and Katie Korby received the awards from renowned chef Alice Waters and Slow Food founder Carlo Petrini.
The organic garlic featured in these two award-winning products was grown by three Massachusetts farms: Next Barn Over Farm in Hadley, Old Friends Farm in Amherst, and Riverland Farm in Sunderland.
"We're so proud to receive these awards," said Kristin Howard, sales manager for Real Pickles. "Producing socially and environmentally responsible food is at the core of Real Pickles' mission, and we're honored to be recognized in this unique way, alongside producers nationwide who have similar values."
The ninth annual 2019 Good Food Awards announced 224 winners in 16 food categories that are fostering land stewardship, strengthening their communities through their decisions as small businesses, and favoring practices that build soil health and minimize carbon footprints. The winners rose to the top in a blind tasting of 2,035 entries, then passed a rigorous vetting to confirm they meet Good Food Awards standards regarding supply chain transparency and environmentally sound agricultural practices.
See a full list of the 2019 Good Food Award Winners here.