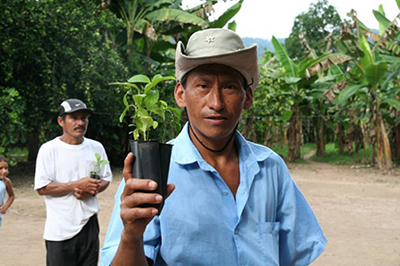 On International Day of Cooperatives, co-ops around the world stepped up to show leadership on climate action, taking a stand as a global community working to achieve a fair, green and just environment for all.
This annual celebration of the cooperative movement led by the International Cooperative Alliance (ICA) in partnership with the United Nations takes place on the first Saturday of July and has been observed since 1995. This year's theme was "Cooperatives for Climate Action."
In the U.S., NCBA CLUSA members are active in addressing the current climate emergency. Below, we're highlighting the work a few of our members and partners are doing in the climate change space. What is your co-op doing to mitigate climate change? Use the hashtag #Coops4ClimateAction on social media to be part of the conversation.
CUNA Mutual Group
CUNA Mutual Group installed two solar arrays at its Waverly, Iowa office, creating 1.3 million kilowatt hours. At its Madison campus, CUNA Mutual is constructing a state-of-the-art, environmentally friendly building set for completion in 2022.
Environmental and Energy Study Institute
NCBA CLUSA's partnership with the Environmental and Energy Study Institute (EESI)'s helped rural electric co-ops develop on-bill financing programs that finance energy efficiency upgrades and community projects in solar and clean energy storage at no upfront cost to their customers. By giving electric co-op members and other utility customers the ability to finance energy efficiency improvements made to their homes and businesses over time, on-bill financing is an affordable way to integrate technology that ultimately reduces energy costs, improves reliability and increases efficiency.
National Co+op Grocers
Last year, National Co+op Grocers released its 2018 Advocacy and Sustainability Report, highlighting how food co-ops are working in cooperation through NCG to increase the sector's positive environmental and social impact. NCG's innovative carbon offset program, Co+op Forest, offset emissions related to business travel and utilities with the planting or conservation of over 70,000 trees in 2018—bringing the total to nearly 2 million trees in the San Martin region of the Peruvian Amazon rainforest since the program's debut in 2012.
National Cooperative Bank
NCB has been committed to renewable energy since 2008 with a focus on financing energy projects with creditworthy off-takers, such as utilities, municipalities and established commercial businesses. In 2019, NCB provided over $75 million in renewable energy lending, including its first Community Solar transaction under the Massachusetts SMART Program. Spanning 400 acres on six sites, this project will add a clean energy source to the grid—enough to power 7,000 households.
Organic Valley
As part of Organic Valley's commitment to climate-beneficial practices, and driven by California laws that require dairies to reduce emissions by 40 percent by 2030, the co-op's sustainability team helped secure $2.2 million to support new carbon sequestering and methane reducing initiatives on California farms. Organic Valley family farms practice an approach called Climate-Smart Farming, which focuses on soil health, biodiversity, and soil and water conservation.