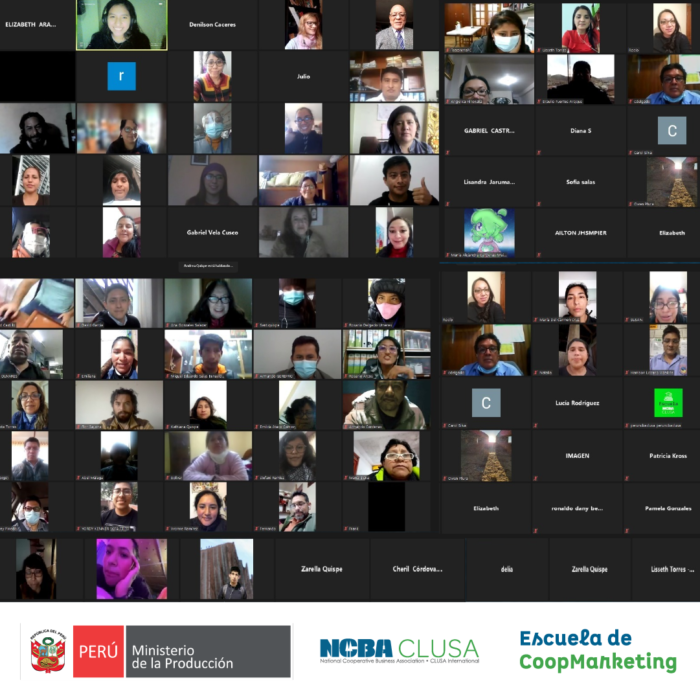 The last decade has experienced significant growth in communication through social networks. Within the last year, platforms such as Facebook, Instagram, WhatsApp, and others have taken on increasing importance as they have helped break the isolation generated by the COVID-19 pandemic, a problem that has affected many cooperatives by weakening relationships with their members and customers. For this reason, NCBA CLUSA's Creating an Enabling Environment for Cooperative Expansion (CECE) project, funded by USAID's Cooperative Development Program (CDP), is supporting cooperatives in Peru to unlock the power of digital tools and social networks. Through its Coop Marketing School, CECE seeks to reinvigorate communication within and between cooperatives, as well as improve the positioning of cooperatives' products in both domestic and international markets.
The Coop Marketing School was a response to growing demand from an earlier initiative called Coop Marketing Fridays, a series of webinars born out of the COVID-19 pandemic and its impact on cooperatives' buyers and supply markets. During the pandemic, CECE partner cooperatives experienced a decline in sales due to contract cancellations resulting from market disruptions, and reduced production from members resulting from a slowdown in operations due to COVID-related safety measures. This, coupled with cooperative members' social isolation, disconnectedness, and pandemic-related deaths, led to depression, anguish, and frustration among them, which CECE aimed to address through a range of coaching activities to improve psychological wellness and to stimulate business resiliency and recovery.
These activities were bolstered by the activation of social networks within cooperatives through the creation of Facebook fanpages and WhatsApp groups, learning groups, contests, and Coop Marketing Fridays, a weekly webinar series designed to train cooperative members and staff in co-op digital marketing, e-commerce, photography, and video production. In 2020, CECE organized 29 webinars. Over 50% of those who attended were women.
By the end of 2020, CECE Peru noted several achievements in relation to its marketing activities. For example, it improved cooperative member communication during this period of isolation and crisis; disseminated messages on cooperative identity, health, markets, and production; promoted learning among cooperative members and across cooperatives; increased self-esteem and member fidelity; facilitated leadership development; and strengthened the participation of women and youth in their cooperatives. Due to the overwhelming success of Coop Marketing Fridays and continued demand from participants for additional technical assistance in marketing, NCBA CLUSA, with the support of marketing specialist and CECE coach Natalya Fabrikantova, launched the Coop Marketing School in January 2021.
NCBA Courses
in the Co-op Marketing School
The Coop Marketing School has completed two courses centered on digital marketing and photo and video production and finished its third course on copywriting and storytelling at the end of May. The online program consists of expert-led classes, which are accompanied by learning sessions and direct coaching, with the aim of teaching, practicing, and adapting what has been learned to the individual needs of cooperatives and small businesses. Of the nearly 400 participants, 84% have been women and 98% have been youth, the majority of whom are the children of cooperative members and employees, or youth who own their own businesses. The cooperatives hope that the Coop Marketing School can serve as an opportunity to attract younger members and to keep youth engaged in their business activities, as many youth migrate from rural to urban areas searching for jobs outside the agricultural and cooperative sectors.
Of the nearly 400 participants, 84% have been women and 98% have been youth, the majority of whom are the children of cooperative members and employees, or youth who own their own businesses.
The online classes have been attended by individuals in Peru, El Salvador, and the Dominican Republic who are eager to learn about digital platform management, storytelling, photographic composition, capturing quality photos and videos using cellphones, Adobe Express, Canva, and other related topics. Course recordings have been posted to NCBA CLUSA Peru's Facebook and YouTube accounts, providing the Coop Marketing School with access to a wider audience. So far this year, the course videos have reached more than 5,500 people, and some course recordings have received as many as 4,560 views. These activities have increased the impact of CECE in Peru, allowing the project to reach not only coffee and cacao cooperatives, but also cooperatives in other value chains such as crafts, jewelry, Andean beans, and others. The Coop Marketing School has also gained the attention of the Ministry of Production and the Regional Government of Cusco, and CECE will partner with them to implement an activity for Cusco's youth.
Lizbeth, a 27-year-old administrative assistant for the COCLA coffee cooperative in Cusco, has discovered her passion for and talent in marketing through the Coop Marketing School. Now she is collaborating with other cooperatives to share what she has learned in the school, and she is also actively participating in her coop's marketing efforts. Rosa, another participant from Cusco aged 56, also praised the Coop Marketing School, "When I learned about the [Coop] Marketing School and that it could help me sell, I was very curious because I did not believe that everything could be offered and sold online. Since then I have been learning how to [do online sales], take photos, make videos, and craft my advertising so that my products are beautiful and that my clients fall in love [with them]…and all without leaving my house! I had never studied design or marketing, but I have been taught and I really enjoy doing it. Above all, I feel happy because I am back in business."
CECE, in partnership with the Cusco Ministry of Production, launched the second edition of the two-month-long photo and video course in May 2021 with 571 youth registrants. In addition, on June 2nd it began the course on storytelling and copywriting with 88 registered participants. Later this year in August, the school plans to host a course targeting women to provide them with the knowledge and skills to sell and advertise their products on Instagram, TikTok, and online stores. NCBA CLUSA is also exploring interest in possible courses on Customer Relationship Management.
Other plans to expand the Coop Marketing School are in progress, including a volunteer program welcoming experts in photography and videography, marketing tools, social media, and other topics to share their knowledge with participants and scale up the community of learning. CECE volunteer opportunities will soon be posted here. For more information on NCBA CLUSA's CECE project and upcoming volunteer opportunities, contact Virginia Brown: vbrown@ncba.coop