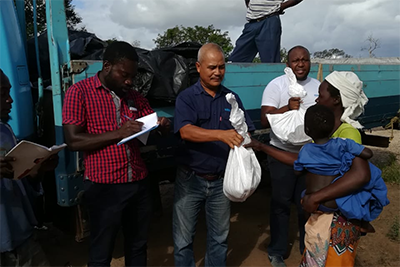 As Mozambique and its surrounding neighbors continue to recover from the recent Cyclones Idai and Kenneth, funds from NCBA CLUSA programs have been recommitted to emergency grants for our programs' clients whose farms were affected.
Distributing 4,778 emergency kits including seeds and inputs for the short planting season to farmers in the affected Districts of Manica and Zambezia provinces, the Embassy of Norway in Maputo supported over $100,000 USD in funds from the PROMAC program for this emergency work. Additional funds were provided by Yara, an International Fertilizer Company from Norway who is NCBA CLUSA's private sector partner in the PROMAC project.
According to figures from the United Nations, the cyclone killed over 1,000 individuals across Mozambique, Malawi and Zambia and endangered the livelihoods and shelter of hundreds of thousands more.
Aid is still needed in the countries as initial floods recede, damaging farmland and therefore harvests across the region. To combat the food insecurity from the storm, these planting input kits aim to replace some of the production lost due to the cyclones and provide short-term growth for nutritious crops such as cowpea, okra and carrots, traditionally grown in the area.
To continue to support the region, inputs and seeds and being sourced from local providers.
Based on reports from our field staff, farms that implemented conservation agriculture techniques were able to better withstand the floods than traditional fields, as evidenced by the minimum tillage combined with mulching and intercropping techniques that contributed to reduced run-off and soil erosion. In addition to typically increased yield in drought seasons, implementing these techniques has helped client farmers be more resilient to shocks like these natural disasters.
In addition to programmatic emergency support, the International Cooperative Alliance has called on the co-op community to support their member and partner organization the Association of Modern Mozambican Cooperatives (AMPCM), which is asking for funds to support cooperative members across Mozambique.