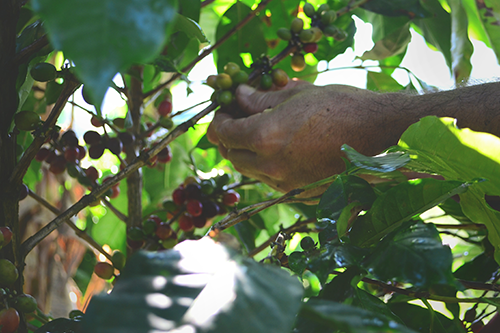 The National Cooperative Business Association CLUSA International (NCBA CLUSA) is pleased to announce it will implement a $15 million pilot project funded by the U.S. Department of Agriculture (USDA) to build climate-smart markets in Puerto Rico by incentivizing underserved farmers to adopt climate-smart agriculture and forestry practices to produce coffee, citrus, plantains, banana, cacao and lumber.
The project will enable Puerto Rican producers to generate quantified and verified outcomes for Climate-Smart Commodities (CSCs) and track them through the supply chain so that producers and cooperatives can access new, profitable market opportunities. NCBA CLUSA's proposal is one of 70 selected for USDA from among more than 450 applicants.
The project is among the first awarded under USDA's historic Partnerships for Climate-Smart Commodities investments, which are expected to top $3 billion in funding to expand markets for America's climate-smart commodities, leverage the greenhouse gas benefits of climate-smart commodity production; and provide direct, meaningful benefits to agricultural producers—including small and underserved producers.
"There is strong and growing interest in the private sector and among consumers for food that is grown in a climate-friendly way," USDA Secretary of Agriculture Tom Vilsack said in a press release. "Through today's announcement…, USDA is delivering on our promise to build an expand these market opportunities for American agriculture and be global leaders in climate-smart agricultural production. This effort will increase the competitive advantage of U.S. agriculture both domestically and internationally, build wealth that stays in rural communities and support a diverse range of producers and operation types."
Led by NCBA CLUSA, the project consortium encompasses cooperatives, farmer organizations and minority-serving institutions in Puerto Rico. They include: Productores de Café de Puerto Rico (PROCAFÉ), University of Puerto Rico (UPR), National Co+op Grocers, Fondo de Inversión y Desarrollo Cooperativo, La Liga de Cooperativas de Puerto Rico, Puerto Rico Farmers Association and SustainCERT. Our cooperative financial institution partners will offer services to participating producers; and our cooperative grocer and marketing partners will build markets for CSCs. The market ecosystem we create for participating cooperatives and support organizations will allow farmers to continue implementing Climate-Smart Agriculture and Forestry Strategies (CSAFs) well beyond the life of the project.
Local partner PROCAFÉ, through their in-house sustainability program and with support of UPR extension services, will encourage and oversee the adoption of CSAFs among its farmer community, provide technical assistance, farmer outreach and training. NCBA CLUSA will leverage its extensive experience with coffee and CSAFs to strengthen PROCAFÉ's capacity to deliver technical assistance to farmers and will also provide technical assistance to PROCAFÉ in conservation and climate-smart practice selection and design, the production of organic fertilizers and the development of Farmer Field Schools, among other activities. Through these activities, and with support from the project's other partners, NCBA CLUSA anticipates large-scale adoption of multi-story cropping by coffee farmers. Over the life of the project, we will provide in-kind grant payments to 2,000 farmers to apply CSA practices on 10,000 acres, helping them recover from recent natural disasters.
By adopting these climate-smart practices NCBA CLUSA and our partners will help coffee farmers in Puerto Rico increase their revenue from climate-smart coffee sales from approximately USD$14 million to USD$50 million by the end of the project. Beyond the quantifiable benefits to farmers' bottom lines, the diversification of crops grown in Multi-story Perennial Cropping Systems will increase resilience for smallholder Puerto Rican coffee farmers, their families and their communities. Given that Puerto Ricans rely on imports for more than 85 percent of their food supply, farmers' ability to expand into citrus, plantains, bananas, cacao and other crops for local and home consumption has significant economic and food security benefits.
For more than 65 years, NCBA CLUSA has worked in 100+ countries in Africa, Latin America and Southeast Asia, building resilient communities, creating economic opportunities and strengthening cooperatives and producer organizations. Our work empowers smallholder farmers, women and youth in the areas of food security and nutrition-led agriculture, climate-smart agriculture, market development, natural resources management, positive youth development, gender equality and enabling regulatory environments.