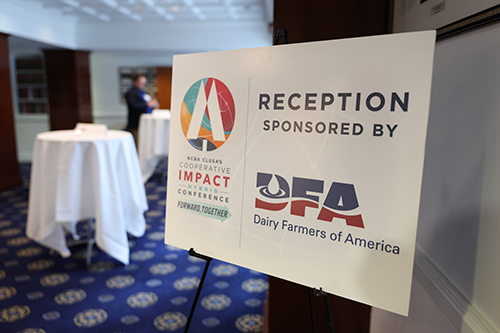 NCBA CLUSA is thrilled to welcome its newest members—ranging from a national milk marketing cooperative to a housing co-op preserving affordable homes in Lansing, Michigan—to a vibrant and growing lineup of businesses building a more inclusive economy.
Learn more about the cooperatives who have recently joined NCBA CLUSA below!
Coastal Credit Union
Coastal Credit Union in Raleigh, North Carolina has been serving its members since 1967. With $4.66 billion assets, Coastal serves 320,000 members from 1,800 business partners and is among the leading financial institutions in North Carolina. Coastal operates 23 branches in central North Carolina and serves members across all 50 states through a network of 5,000 shared branches, 30,000 surcharge-free ATMs, mobile banking and a robust offering of online services. Coastal Credit Union is proud to be owned by its members, not Wall Street.
Dairy Farmers of America
Dairy Farmers of America (DFA) is a national, farmer-owned dairy cooperative focusing on quality, innovation and the future of family dairies. While supporting and serving more than 11,500 family farm owners, DFA manufactures milk, cheese, butter, ice cream, dairy ingredients and more that connect the cooperative's family farms to family tables through regional brands such as as Alta Dena® Dairy, Meadow Gold® Dairy, Friendly®'s, Borden® Cheese, Plugrá® Premium Butter and Kemps®. On a global scale, DFA works with some of the world's leading food companies to develop ingredients that deliver the greatest sources of nutrition to consumers around the world, while staying committed to social responsibility and ethical farming.
IDB Global Federal Credit Union
IDB Global Federal Credit Union is a not-for-profit financial service cooperative owned by more than 10,000 members of the Inter-American Development Bank community (IDB and IDB Invest). From their humble beginnings more than 60 years ago, IDB Global Federal Credit Union has worked steadily together with members to promote savings and enable favorable borrowing arrangements. With their members' ongoing trust, support and engagement, IDB Global Federal Credit Union is a world-class, worldwide cooperative, member-owned financial institution. With services available in both English and Spanish, as well as products that best meet the personal needs of G4 Visa holders and U.S. residents, IDB Global Federal Credit Union understands the needs of its customers.
Peach State Federal Credit Union
Founded in 1961 as Gwinnett Teachers Credit Union, Peach State Federal Credit Union is a $752 million credit union that serves 75,000+ members throughout Georgia and South Carolina. Operating as a not-for-profit financial cooperative, Peach State's mission is to provide quality financial services that meet the needs and exceed the expectations of its member-owners. The credit union's passion for helping their members and community continue to grow guided them to create the Peach State FCU C.A.R.E.S. Foundation, which has contributed more than $1.8 million to local organizations that help their neighbors.
Spartan Housing Cooperative
Spartan Housing Cooperative is a non-profit, autonomous organization providing affordable, off-campus housing to students and the Greater Lansing community. The co-op's name honors their historical affiliation with Michigan State University, where Spartan Housing Cooperative remains a registered student organization. The cooperative is committed to providing safe, secure and affordable housing. Member residents own and operate Spartan Housing Cooperative. Through the stewardship of being homeowners, the co-op's spaces are unique infrastructures—full of culture, art and individual yet collective histories.
WEOKIE Federal Credit Union
In 1969, employees of the Western Electric Plant in Oklahoma City pooled their resources to form their own not-for-profit cooperative and named it WEOKIE ("WE" for Western Electric, and "OKIE" for Oklahoma. In 2001, the credit union expanded to serve anyone in greater Oklahoma City and the surrounding counties looking to be part of a strong financial cooperative. Today, WEOKIE Federal Credit Union has grown to become one of the largest financial institutions in Oklahoma with more than $1.2 billion in assets. Through growth and expansion, member ownership is the one key ingredient to the credit union's business model that has remained the same.