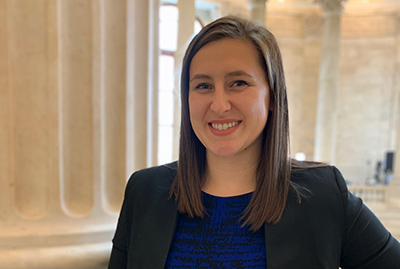 NCBA CLUSA is pleased to announce the addition of Kate LaTour as NCBA CLUSA's Government Relations Manager, effective February 11, 2019.
Prior to joining NCBA CLUSA, Kate spent five years on Sen. Tammy Baldwin's (D-WI) legislative team. During her tenure she worked on a wide range of economic issues where she had the opportunity to interact and support cooperative businesses throughout the state of Wisconsin. As a Legislative Aide, she led Sen. Baldwin's efforts on the Worker Owned Wealth Act to promote employee-owned businesses through financing tools and technical assistance. Kate also served as the senator's Correspondence Manager, overseeing nearly 1 million constituent communications in the 115th Congress.
"We are excited to have Kate help lead our advocacy work to ensure policymakers understand why cooperatives are the best strategy for building businesses and communities," said Doug O'Brien, president and CEO of NCBA CLUSA. "Kate's experience and passion for empowering people in their own communities are an excellent fit to deepen NCBA CLUSA's legislative impact as we look to build a more fair, equitable and inclusive economy."
Born and raised just outside of Milwaukee, Kate is a native of Wisconsin and graduated from the University of Wisconsin-Madison.