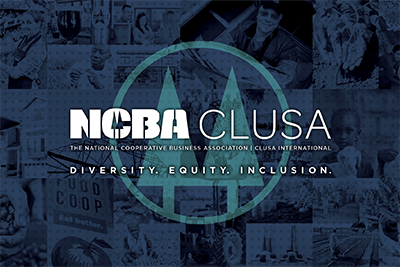 NCBA CLUSA is pleased to announce that its 2020 Annual Report is now available online. For the first time, this year's annual report is fully digital, making it more engaging and mobile-friendly, with content that is easier to navigate and share. Video messages from each of our lines of work add to the experience.
The historic challenges of 2020 highlighted how co-ops can empower people to come together and meet their needs. In the past year, cooperators everywhere innovated solutions to shared crises, built more resilient communities and rooted vital infrastructure at the local level. 2020 also presented a generational opportunity to live up to the cooperative movement's shared values of equality, equity and solidarity. Our 2020 Annual Report highlights some of the ways NCBA CLUSA met that challenge in partnership with our members.
Moving forward, NCBA CLUSA will continue to build a culture that is consistent with our organizational mission and values. We'll also keep working alongside our members, partners and policymakers to tackle the critical challenges we all face. It's time to close the inequality gap, dismantle systemic racism and build resilience in the face of climate change. By deepening our shared cooperative identity, we can build more inclusive co-ops, more just and equitable communities and a better future for everyone—together.