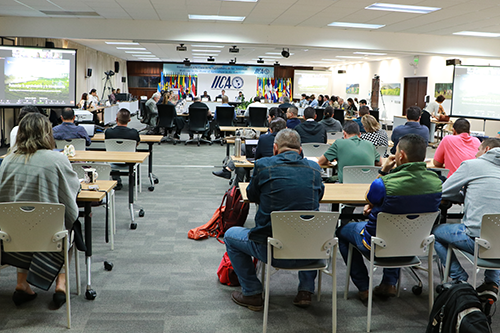 NCBA CLUSA's Cooperative Business School (CBS) was recognized as a promising "AgTech" and the only virtual learning platform that focuses on agricultural organizations in the region. CBS, alongside 14 other businesses that use digital technologies to advance agriculture, was selected among more than 70 applicants to participate in the Inter-American Institute for Cooperation on Agriculture (IICA)'s Digital Agriculture Week 2023 from May 29-June 1 in San Jose, Costa Rica.
This second round of the Digital Agriculture Week is part of IICA's Digitalization of Agrifood Systems Program. The event brought together other organizers such as CAF, BID Lab, IFAD, Bayer, Microsoft, Veolia and The Yield Lab, as well as ministries and public entities leading national agricultural efforts, public agriculture research and technical assistance institutes, and agricultural producer apex organizations, to learn and share ideas to accelerate the digital transformation of agriculture and agrifood systems in the region in an inclusive and equitable way that contributes to United Nations' Sustainable Development Goals.
NCBA CLUSA shared how CBS originated as the Co-op Marketing School in Peru in January 2021, in the middle of the Covid-19 pandemic, under our USAID-funded Cooperative Development Program. Since then, it has evolved well beyond digital marketing and has reached nearly 5,300 people (44% women, 55% youth) in more than 700 cooperatives and another 3,700 organizations in 12 countries in the region. CBS has since expanded to serve the specific needs of cooperatives in Guatemala, and is in the process of also targeting cooperatives and underserved farmers in the U.S.
NCBA CLUSA's CBS has used digital technologies such as a customized e-learning platform and learning management systems to host 46 courses, 218 webinars, a library with hundreds of educational materials and curated search for funds. It has also leveraged social media such as Facebook, WhatsApp and Instagram to facilitate 4,730 individual and 75 group tutoring sessions, as well as to activate a virtual community of people interested in co-creating learning and exchanging information for the benefit of their organizations and members. The School has a "digitalization test"  that encourages students to start laying the foundation for smallholder farmers' organizations and rural businesses to enter into the digital age. In fact, CBS has helped students create close to 400 fan pages, 360 Instagram accounts, 330 official email addresses, 270 e-commerce profiles on producersmarket.com, and 370 product designs.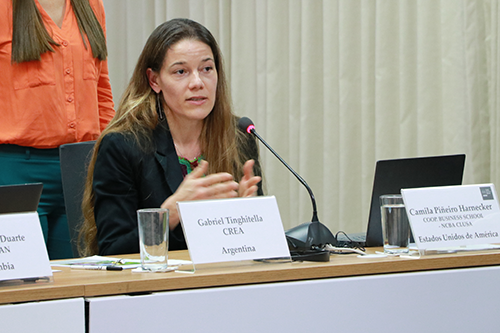 About the Cooperative Business School
The Cooperative Business School seeks to bridge the digital divide in cooperatives; strengthen cooperatives' branding and marketing position; and energize and inspire members, their communities and key stakeholders, consequently improving cooperative members' incomes and livelihoods. CBS has partnered with about 40 organizations to expand and deepen its impact. If your organization is interested in co-sponsoring a course, event or workshop together with NCBA CLUSA's Cooperative Business School, send us an email at info@businessschool.coop.
About the Inter-American Institute for Cooperation in Agriculture
For more than 75 years, the Inter-American Institute for Cooperation in Agriculture has been working to advance the agricultural development and rural well-being of its member states across the Americas. IICA is based in Costa Rica but maintains a network of over 30 countries located throughout the Americas, with a primary focus on providing education and technical expertise in agriculture.