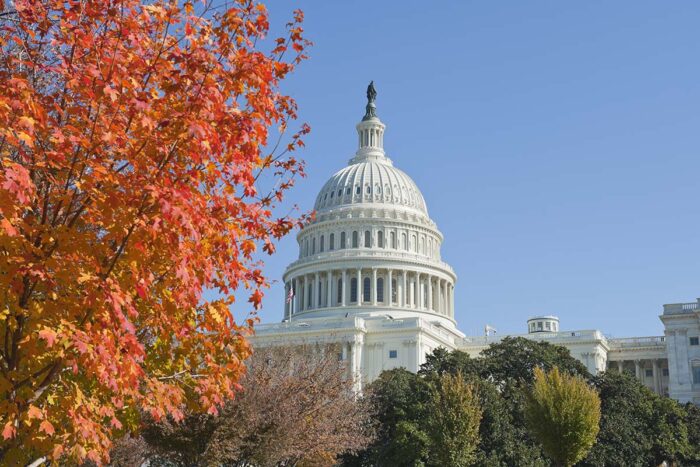 A bipartisan infrastructure bill approved Nov. 5 by the House will be a major boost for electric cooperatives by providing billions for broadband deployment, electric vehicle charging networks, electric transmission, energy storage, carbon capture and other clean energy technologies.
The Senate passed the Infrastructure Investment and Jobs Act in August. The $1.2 trillion bill, which includes $550 billion in new spending, was signed into law by President Joe Biden on Nov. 15. Improving the nation's aging infrastructure has been a major effort by Congress in recent years and a policy priority for the Biden administration.
"This bipartisan bill provides a significant down payment toward meeting critical needs of electric cooperatives and the communities we serve, including funding for priorities such as broadband deployment and electric vehicle charging," said NRECA CEO Jim Matheson. "This bill recognizes the need to expand these two technologies in rural communities. As policymakers plan for a future that depends on electricity to drive the economy, more work will be needed to build on the groundwork laid by this legislation."
Among the infrastructure bill's key provisions benefiting co-ops:
Broadband: Provides $65 billion to connect rural communities and low-income urban residents with high-speed internet service. This includes $42.5 billion for a broadband grant program administered by the states. Co-ops would be eligible to participate in the program, and funds could be used for deployment and mapping projects to show which communities need service most.
Electric vehicles: Authorizes $7.5 billion for EV charging infrastructure. The funding would be sent to the states to partner with co-ops and other businesses to create charging networks. The bill also provides $2.5 billion for zero-emission school buses, which could help co-ops partner with local school districts to bring electric buses to their communities.
Energy research and development: Authorizes billions to explore clean energy technologies to reduce carbon dioxide emissions.
Carbon capture: Provides $3.5 billion for large-scale carbon-capture projects, including two demonstration projects each at coal-fired power plants and natural gas-fired power plants. It also authorizes $2.2 billion to enable the capture of more carbon emissions by building storage infrastructure, including wells and pipelines.
Wind and solar: Boosts renewable energy by providing $400 million for research and development into wind energy and $320 million for solar energy.
Energy storage: Provides $355 million for pilot projects that explore the potential of energy storage. An additional $150 million would go toward an initiative that focuses on long-duration storage.