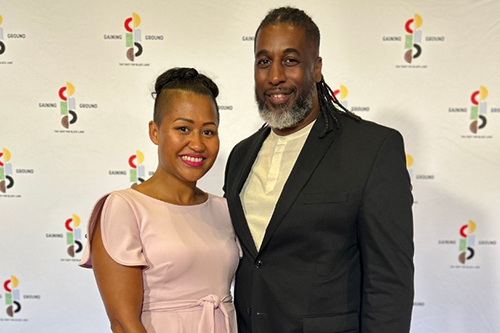 A new film examining how Black landowners are reclaiming their agricultural legacy features two Federation of Southern Cooperatives/Land Assistance Fund staff: Dãnia Davy, Director of Land Retention and Advocacy; and Bruce Harrell, Louisiana State Coordinator.
Black ownership of farmland has dwindled to alarmingly low numbers due to many factors including usage of an obscure law called Heirs' Property. "Gaining Ground: The Fight for Black Land" examines the causes, effects and solutions to this issue, sharing stories of Black landowners who received land retention assistance from the Federation and New Communities, Inc.
For more than half a century, the Federation of Southern Cooperatives/Land Assistance Fund has provided education and technical assistance to thousands of heirs' property landowners across the South with the goal of reversing the trend of black land loss, encouraging land-based economic development and creating paths to generational wealth. For the past two years, John Deere has sponsored the Federation's land retention efforts, including funding for inters and legal fellows.
Created by Al Roker Entertainment and Deere and Company in partnership with Emmy-nominated director Eternal Polk, "Gaining Ground" was dedicated to the late civil rights pioneer Rev. Charles Sherrod.
On June 12, Al Roker Entertainment hosted a private screening of the film at the Smithsonian African American Museum in Washington DC. Gaining Ground debuted at the American Black Film Festival in Miami, Florida on June 15, and will appear in screenings across the country this summer.