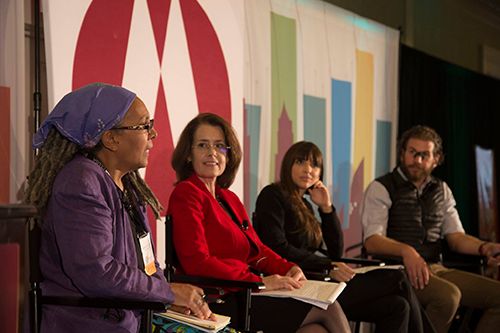 Helen Rosenthal, Councilmember of New York City's 6th District, will appear on Everything Co-op on Thursday, October 11. A weekly exploration of the impact and potential of the cooperative business model, Everything Co-op aims to generate interest in and support for the cooperative movement.
Hosted by Vernon Oakes and conversational in format, the show is streamed live at worldcnews.com every Thursday from 10:30-11:30 a.m. EDT. Everything Co-op also airs live in the Washington, D.C. Metropolitan Area on WOL 1450 AM—Radio One's premiere talk radio station.
This week, Helen and Vernon will discuss how worker cooperatives have the power to transform New York City.
Helen Rosenthal represents New York City's 6th Council District, spanning the upper West Side in the New York City. She is a leading voice on issues of accessibility, civic engagement, affordable housing, pedestrian safety, the environment and gender equity.
Elected to City Council in 2013, Councilmember Rosenthal is a strong advocate for worker cooperatives. In 2015, she co-sponsored a bill requiring the Department of Small Business Services to report on how it engages with and supports cooperative enterprise. The bill came shortly after New York City invested $1.2 million the development of worker cooperatives citywide.
"We live in a world where CEOs live in luxury and their workers depend on food stamps to get groceries," Rosenthal said in a 2015 press release. "It doesn't have to be this way. Worker cooperatives treat every worker equally, with good wages, stable hours and an equal share of the business. Worker cooperatives can help lift people from dead-end jobs into the middle class."
In 2018, Helen was named chair of the City Council's Committee on Women. She is also co-chair of the Manhattan Delegation and a member of the Council's Budget Negotiating Team. Helen serves on the following Council Committees: Civil and Human Rights; Contracts; Economic Development; Finance; and Housing and Buildings.
Listen to archived episodes—including NCBA CLUSA's centennial podcast series in partnership with Everything Co-op—at everything.coop. And hear Vernon's live, on-site interview from the 2018 Co-op IMPACT Conference with Steve Dubb, senior editor of The Nonprofit Quarterly, online now.