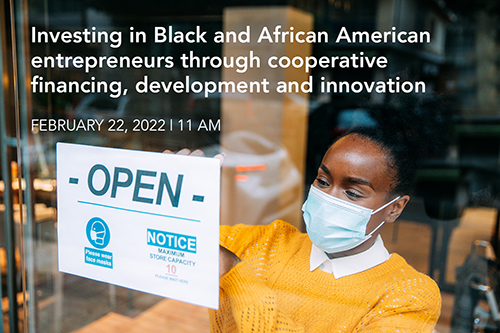 Join NCBA CLUSA on Tuesday, February 22, 2022 from 11 am – 12 pm EST for the first of two webinars we're hosting in celebration of Black History Month. In partnership with Capital Impact Partners, National Co+op Grocers, National Cooperative Bank and Rochdale Capital, this webinar will consider how Black and African American entrepreneurs are transforming the landscape of co-op financing, development and innovation.
We'll explore how economic leaders within the Community Development Financial Institution (CDFI) ecosystem are working in partnership with Black and African American cooperators to create opportunities that break barriers to success. You'll learn how access to innovative financial tools is creating space for a new generation of Black and African American co-op ownership. You'll also hear how a leading grocery co-op is being intentional about diversifying its vendors and how supply chain diversity factors into our broader discussion of enabling environments for Black and African American-led cooperatives.
Following our panel discussion, moderated by Stacey Johnson, NCBA CLUSA's Manager of Membership and Sponsorship, we look forward to your participation in our audience Q&A.
 
MEET THE PANEL
Anthony Goodwin
Business Innovation Director
National Co+op Grocers
John Holdsclaw IV
Executive Vice President of Strategic Initiatives
National Cooperative Bank
Stacey Johnson
Manager of Membership and Sponsorship
NCBA CLUSA
Alison Powers
Manager of Cooperatives and Communities
Capital Impact Partners