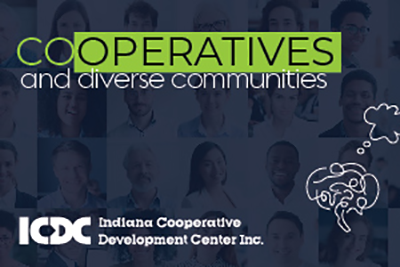 Join the Indiana Cooperative Development Center and experts from across the country on Friday, October 30 for a one-day conference under the theme "Reimagining Work: The Worker Cooperative Model." Cooperatives and Diverse Communities 2020 will focus on how worker co-ops are helping employees create businesses that are more equitable and just.
This virtual event will kick off with a discussion on how to start a worker co-op led by the Democracy at Work Institute. During three panel discussions, participants will dig deeper into opportunities for employee ownership across industries ranging from technology to cleaning services, landscaping and homecare.
Worker-owned cooperatives play a critical role in building community wealth by:
Creating quality, empowering jobs for community members and
Allowing employees to accumulate wealth and build assets through having an ownership stake in the cooperative
Don't miss this opportunity to hear speakers from across the country share how worker cooperatives have impacted their lives and enriched their communities!