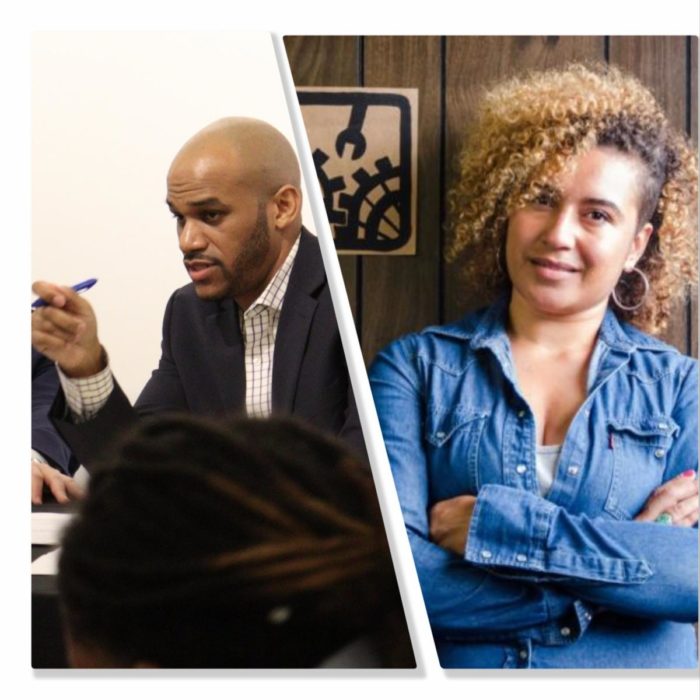 Tune in to WOL 1450 AM, 95.9 FM, and Tune-in Radio, on February 11, 10:30 am for Everything Co-op, hosted by Vernon Oakes. This week Vernon interviews Niki Okuk, Downtown Crenshaw Board Chair, and Damien Goodmon, Downtown Crenshaw Board Member. Vernon and his guests will discuss plans for the acquisition and redevelopment of Baldwin Hills Crenshaw Plaza. The historic Crenshaw Mall is being acquired through Downtown Crenshaw Rising, a community nonprofit established to thwart an attempted purchase by LIVWRK, a development partner of Trump-Kushner. Downtown Crenshaw plans to reinvent the mall as an "urban village." The 40-acre site will be used to create worker owned businesses, community space, cooperative housing and much more.
Niki Okuk attended Audubon Middle school in South LA and went on to complete her degree in Economics at Columbia University, a Masters from the Nanyang University in Singapore, and a certificate in Sustainability at MIT Sloan School of Business before returning home to start a green-collar business in Compton. Rco Tires existed for nearly a decade as an example of black woman owned small business, employing dozens of formerly incarcerated community members, recycling millions of pounds of tire rubber into new products and creating decent, dignified, and democratic workplaces in South LA, which she talked about in her 2017 TED talk, "Fire the Boss".
"Niki and her mom, Lis Ryder, are co-founders of LUCI (Los Angeles Union Cooperative Initiative). Lis, together with Mary Hoyer, is a co-founder of the Union-Coop Council, part of the U.S. Federation of Worker Cooperatives. Both the USFWC Union Coop Council and LUCI are closely aligned with the 1worker1vote movement."
Niki continues to work at the intersection of sustainability, industry and environmental justice and is currently serving on the leadership team for Downtown Crenshaw Rising, the ambitious community led effort to purchase and redevelop the historic Crenshaw Mall 40-acre site into a thriving urban village under collective and cooperative models which will house, employ, stabilize, and nurture the Crenshaw community for generations to come.
Damien Goodmon, a 27-year Leimert Park resident, has been labeled a "visionary" by the LA Times, recognized as one of the L.A.'s "100 Most Influential African-Americans" by the LA Wave Newspapers, chosen beside former LA Mayor Richard Riordan and actress Drew Barrymore for the 2009 "LA People" issue of LA Weekly, and is a lead subject of the award-winning documentary "Beyond the Echo of the Drum," which premiered at the prestigious Cannes Film Festival. As a nonprofit executive director he has led some of the Crenshaw and Black Los Angeles' most impactful community advocacy campaigns. As a political operative he has managed, led departments and advised electoral campaigns from the school board level up to the presidential. As an executive management consultant and systems thinker, he has built, reconstructed and managed multiple large companies and departments, including some with over 400 employees, and successfully guided complex projects and partnerships, featuring actors with divergent interests. A graduate of L.A. Loyola High School, he has studied at the University of Washington and Harvard University programs.