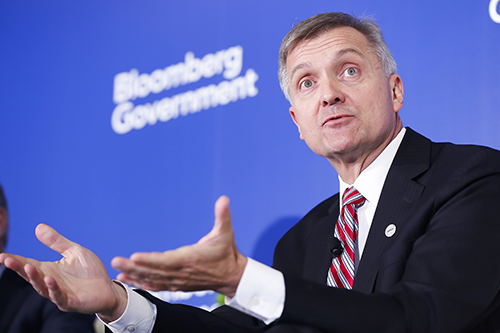 NRECA CEO Jim Matheson, speaking before a Washington audience of business strategists, outlined how federal policymakers can help close the digital divide and what innovative electric cooperatives are doing to meet rural America's broadband needs in the meantime.
High-speed internet service "is important to us as electric cooperatives because we are owned by the communities we serve, communities that won't have much of a future without broadband," Matheson said at the Next.2018 conference held Nov. 13-15 by Bloomberg BNA, a news and analysis company.
Matheson underscored how electric co-ops are leaders in smart technology, yet Federal Communications Commission policies fail to make the most of co-op investments for broadband development.
"The FCC has spent $114 billion, and there are still 23 million people without access to broadband," he said. This gap in service is due in part to the commission's reliance on self-reported and unverified data about internet service from incumbent providers.
In addition to better data collection, Matheson said there needs to be greater government financing of rural broadband through grant-loan combinations. The most sparsely populated areas should receive more grant money to offset the higher costs of building rural broadband, he said.
Federally funded broadband providers also should provide the highest speeds available to meet growing communities' education, health care and business needs, he added.
Matheson described how a Missouri co-op with fewer than 7,000 meters deployed broadband to its membership with the help of a $10 million federal grant and a $10 million loan. Ralls County Electric Cooperative in New London has had a 70 percent take rate across its service territory.
"When it comes to delivering broadband, government aid should not favor any type of technology or business provider," said Matheson. "When electric cooperatives come to the table, we just want the consumer to have real broadband."
On the legislative front, Matheson sees the potential for an infrastructure package in the new Congress that should include provisions to advance rural broadband.
He noted that a bill to improve the nation's connectivity and other infrastructure has been advocated by the Trump administration and is an area where lawmakers of both parties could reach an accord.
"Co-ops want infrastructure [legislation] in ways that expand the smart grid and broadband," said Matheson. "That's one area where Congress can work constructively in a bipartisan way."