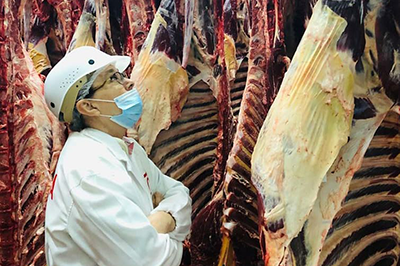 Traducción al español a continuación
Lack of good sanitary practices and application of Hazard Analysis and Critical Control Points (HACCP) systems has historically plagued the Dominican Republic's (DR) food safety practices, creating an obstacle to exporting beef from the country. Slaughterhouses and meat packaging plants commonly lack a hot water supply for washing and sufficient temperature control, have few protocols for environmental management and generally do not apply HACCP standards, despite it being mandated by government regulation.
NCBA CLUSA's U.S. Department of Agriculture (USDA)-funded Safe Agriculture Food Export (SAFE) project is working to help Dominican Republic achieve equivalence with U.S. food safety regulations to allow beef exports to Puerto Rico. During the project, activities to enhance food safety practices in Dominican slaughterhouses have been front and center.
Agricultural experts from Texas A&M University working with the SAFE project played a key role in the creation of a seven-month "critical route" for three selected slaughterhouses to improve HACCP and sanitation standards. This technical assistance started in April 2018. Of the original three slaughterhouses, two have made substantial progress toward meeting the audit requirements for equivalence with U.S. standards and were selected for continued support: Mercarne in Santo Domingo and Agrocarne in La Romana.
The SAFE project led trainings for beef processing staff on Good Manufacturing Practices (GMP) specifically related to sanitary measures and provided co-investments to purchase equipment to help slaughterhouses meet increased sanitary standards. Another key component was training staff from the Direccion General de Medicamentos, Alimentos y Productos Sanitarios (DIGEMAPS) in the Ministry of Health to develop procedures and protocols for a modern beef inspection system.
During the COVID-19 pandemic, the SAFE project adjusted its technical assistance to equivalence actors through collective efficiency schools (CES – a further adaptation of the farmer and livestock field school methodology) to a virtual format with 517 participants, including managers and staff of slaughterhouses and inspectors from DIGEMAPS. Key topics covered included HACCP, humane livestock practices, and sanitary measures and procedures.
The SAFE project's midterm project evaluation, in 2019, found that the project's activities had already created a "a culture of food safety that is growing and will continue to grow." Now with the final evaluation of the project, the external evaluators Just Results have reinforced this finding, indicating that the SAFE project's activities have "significantly improved the quality of sanitary practices and established new norms, a trend that stakeholders believe will be lasting." An upgraded beef inspection system and the expected achievement of equivalence with U.S. food safety regulations for export should continue to reinforce these trends as the demand for high quality Dominican beef grows.
---
La falta de buenas prácticas sanitarias y la aplicación de los sistemas de Análisis de Peligros y Puntos Críticos de Control (HACCP) ha plagado históricamente el régimen de seguridad de los alimentos de la República Dominicana (RD) y durante mucho tiempo han sido un obstáculo para la exportación de carne vacuna. Los mataderos y las plantas de envasado de carne carecían habitualmente de un suministro de agua caliente para el lavado; falta de control efectivo de temperatura; pocos protocolos de manejo ambiental; y en general no se aplica HACCP ni control de puntos críticos, a pesar de que es un mandato de la normativa gubernamental.
Como parte del objetivo del proyecto Fortaleciendo la Cadena de Valor Ganadera en RD PROGANA (SAFE, por sus siglas en inglés) del Departamento de Agricultura de los EE. UU. (USDA) de ayudar a lograr la equivalencia con las regulaciones de seguridad de los alimentos de EE. UU. para permitir las exportaciones de carne vacuna a Puerto Rico, las actividades para mejorar las prácticas de seguridad alimentaria en los mataderos dominicanos han tomado una posición prominente e importante.
Los expertos agrícolas de la Universidad de Texas A&M (TAMU), socios del Progana, desempeñaron un papel clave en la creación de una "ruta crítica" para mejorar los estándares de HACCP y saneamiento con una duración de siete meses para tres mataderos evaluados. Esta asistencia técnica comenzó en abril de 2018 en tres mataderos. Dos avanzaron sustancialmente con el cumplimiento de los requisitos para la auditoría de la equivalencia y recibieron un acompañamiento más cercano: Mercarne en Santo Domingo y Agrocarne en La Romana.
Progana dirigió entrenamientos para el personal de procesamiento de carne de res sobre las Buenas Prácticas de Manufactura (BPM) específicamente relacionadas con medidas sanitarias y apoyó por medio de coinversiones de comprar equipos para ayudar a los mataderos a cumplir con los estándares sanitarios más estrictos. Otro componente clave fue capacitar al personal de la Dirección General de Medicamentos, Alimentos y Productos Sanitarios (DIGEMAPS) del Ministerio de Salud para desarrollar procedimientos y protocolos para un moderno sistema de inspección de carne.
Durante la pandemia COVID-19, Progana ajustó su asistencia técnica a actores de equivalencia a través de escuelas de eficiencia colectiva (CES – una mayor adaptación de la metodología de las escuelas de campo para agricultores y ganaderos) a un formato virtual con 517 participantes, entre gerentes y personal de mataderos. e inspectores de DIGEMAPS. Entre los temas clave cubiertos se encuentran: HACCP, prácticas ganaderas humanitarias y medidas y procedimientos sanitarios.
La evaluación intermedia del proyecto SAFE, en 2019, encontró que las actividades del proyecto ya habían creado una "cultura de seguridad alimentaria que está creciendo y seguirá creciendo". Ahora con la evaluación final del proyecto, los evaluadores externos Just Results han reforzado este hallazgo mostrando que las actividades han "mejorado significativamente la calidad de las prácticas sanitarias y establecido nuevas normas, una tendencia que las partes interesadas creen que será duradera". Un sistema mejorado de inspección de la carne de res y el logro esperado de la equivalencia con las normas sanitarias de los Estados Unidos para la exportación deberían continuar reforzando estas tendencias a medida que crezca la demanda de carne de res dominicana de alta calidad.