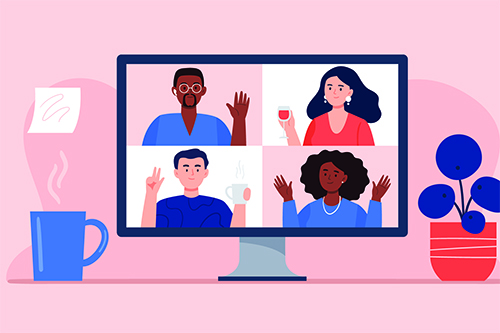 Are you ready to connect virtually with some of your cooperative peers, share your work, or discuss trending topics that the co-op community is navigating? We invite you to join us at NCBA CLUSA's next Co-op Circle Happy Hour, scheduled for Thursday, September 14 from 3-4 pm EDT.
This virtual happy hour event offers a free community-based opportunity to connect and engage with fellow cooperative professionals on important issues, timely challenges and needs for the co-op community, and helpful resources to support your work. Our September event will be hosted by JT Yu, Marketing and Business Development Lead for SymbiOp, a worker-owned ecological garden shop and landscaping service. Yu will lead an engaging discussion on Principle 6 and explore the vision, purpose and benefit of creating a co-op movement. 
We encourage you to tune in each month as NCBA CLUSA partners with cooperative professionals to host a virtual meetup. We enjoy great conversation and make new connections that support the work of each co-op professional. Our discussion style is intended to empower your questions and comprehension through an active and thought-provoking discussion. Mix and mingle with other NCBA CLUSA members and get plugged into our Circle Community as you join us.
Event Highlights
Engaging Conversations: Connect with

coop

erative peers, share insights, and exchange experiences & ideas on the latest challenges, trends, and developments in the co-op community.
Virtual Networking: Interact with

coop

erative professionals in a small group virtual setting from across the world, sharing your work, knowledge and helpful resources.
Themed Activities: Enjoy interactive icebreakers and team challenges designed to spark both conversations and learning moments on interesting facts about the history of the co-op community and more.
Expert Insights:

Gain valuable tips from both guest hosts and attendees on opportunities to advance access to critical tools, re

sources, & techniques that support the work we do as

coop

erative leaders.
For more details on joining this week's happy hour, log into your Circle account and navigate to the "Events" tab. 
Not a member? Click here for more details on creating an account. For additional assistance, email NCBA CLUSA's Membership team at membership@ncba.coop.