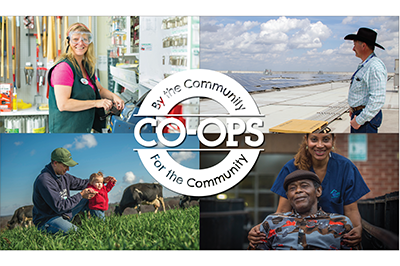 Celebrated by cooperatives nationwide during the month of October, National Co-op Month is an opportunity to celebrate the many ways cooperatives create shared prosperity for their members and communities.
The theme of this year's Co-op Month, "Co-ops: By the Community, For the Community," lifts up the communities at the heart of America's more than 65,000 cooperative establishments. Because cooperatives are member-owned, their decision-making and operations all tie back to the communities they are a part of—offering a uniquely local approach to how we live, work, play, shop, grow and connect.
A product of the Co-op Month Planning Committee—launched in 2016 at the Cooperative Communicators Association (CCA) Institute—the annual Co-op Month theme is designed to unify messaging during the month of October, but also offer customizable resources that reflect the collaborative, cross-sector nature of the committee.
Resources for 2019 Co-op Month are hosted by NCBA CLUSA at coopmonth.coop. You'll find social media posts, writing samples, activity ideas and a link to request this year's logo design files to customize your own resources.
Co-led this year by NCBA CLUSA, the National Rural Electric Cooperatives Association and Cooperatives for a Better World, the Co-op Month Planning Committee includes representation from numerous national, regional and local organizations.