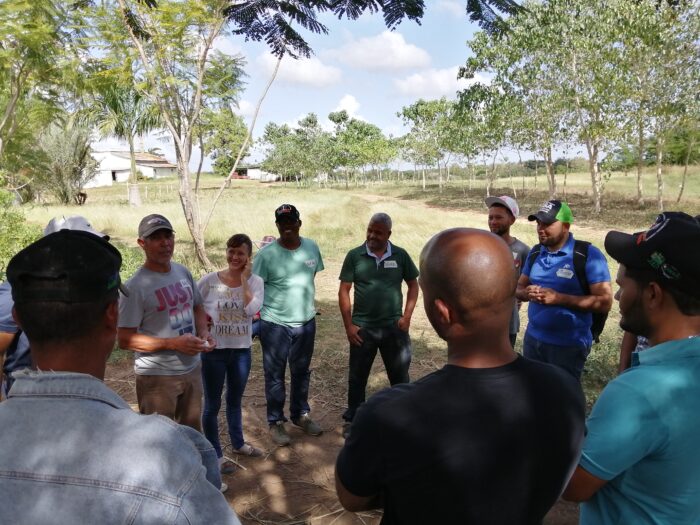 Traducción al español a continuación
Access to quality extension services has long been a challenge for the livestock sector in Dominican Republic (DR). Prior to the U.S. Department of Agriculture (USDA)- funded Safe Agriculture Food Export (SAFE) project implemented by NCBA CLUSA, MEGALECHE – the government agency responsible for providing extension services for the livestock sector – often lacked the capacity to meet farmer's demand. This was in large part because MEGALECHE was the only provider of extension services in the Dominican Republic, and thus had to carry the burden of demand since private extension services were non-existent.
While there was an attempt to introduce private extensionists to the Dominican Republic several decades ago by the UN Food and Agriculture Organization (FAO), the SAFE Project is generally perceived to be the first program to introduce private extension services to the country. It's also the first program in many years to address the needs of the livestock sector by supporting farmers directly.
The introduction of private extensionists has been well received throughout the sector. Focus groups of farmers conducted by external evaluators, Just Results, for the final evaluation of the project shed light on the impact of the extensionists on milk productivity, quality, and adoption of livestock best practices.
Farmers who participated in a focus group in Santiago Rodriguez called the SAFE Project "the best seen in years in the northwest [provinces of DR]," in large part because of the dedication of the private extensionists supported by the project. They provided technical assistance and support through farm visits to help farmers as they adopted new techniques and technologies. A farmer focus group in Duarte reiterated this, saying that what set the SAFE project extensionists apart was the respect with which the farmers were treated and the valuable insights they brought, which led to large improvements in productivity and quality.
Finding sources for long term financing for private extensionists will be a primary challenge for sustainable impact. Associations and farmers alike agree that private extension services have provided immense benefits, well worth the cost of maintaining their services after the end of the SAFE Project. However, whether due to the COVID-19 pandemic or other factors, many associations and cooperatives have not begun supporting private extensionists on their own. Calculations done by the SAFE Project team showed that the benefits from increases in milk productivity and quality as a result of the private extension services should easily cover the costs of an association hiring one or more extensionists. As associations and other value chain actors find ways to take advantage of these gains in productivity and quality, private extension services promise to be an important part the value chain for the foreseeable future.
—
El acceso a servicios de extensión de calidad ha sido durante mucho tiempo un desafío para el subsector ganadero en República Dominicana (RD). Antes del proyecto Fortaleciendo la Cadena de Valor Ganadera en República Dominicana, PROGANA (SAFE, por sus siglas en inglés), del Departamento de Agricultura de los EE. UU., MEGALECHE, la agencia gubernamental responsable de brindar servicios de extensión para el sector ganadero a menudo carecía de la capacidad para satisfacer la demanda de los ganaderos. Esto se debió en gran parte a que MEGALECHE era el único proveedor de servicios de extensión en la República Dominicana y, por lo tanto, tenía que soportar toda la carga de la demanda. Los servicios de extensión privados no existían.
Si bien la Organización de las Naciones Unidas para la Agricultura y la Alimentación (FAO) intentó introducir extensionistas privados en la República Dominicana hace varias décadas, se percibe en general que el proyecto Progana ha sido el primer proyecto en introducir servicios de extensión privados en el país y el primer proyecto en muchos años para atender las necesidades del sector ganadero por apoyar directamente al ganadero.
La introducción de extensionistas privados ha sido bien recibida en todo el subsector. Los grupos focales de ganaderos conducidos por los evaluadores externos Just Results, para la evaluación final del proyecto, arrojaron luz sobre el impacto de los extensionistas en la productividad, la calidad de la leche y la adopción de las mejores prácticas ganaderas.
Los ganaderos que participaron en un grupo focal en Santiago Rodríguez llamaron a Progana "el mejor visto en todos estos años en el noroeste [provincias de RD]", en gran parte por la dedicación de los extensionistas privados apoyados por el proyecto y la asistencia técnica que ellos proporcionaban mediante visitas a las fincas para ayudar a los ganaderos a adoptar nuevas técnicas y tecnologías. Otro grupo focal de ganaderos en Duarte reiteró esto, diciendo que lo que distingue a los extensionistas del Progana era el respeto con el que se trató a los ganaderos y las valiosas ideas que aportaron, lo que condujo a grandes mejoras en la productividad y la calidad.
Encontrar fuentes de financiamiento a largo plazo para extensionistas privados será el desafío principal para lograr un impacto sostenible. Tanto las asociaciones como los ganaderos están de acuerdo en que los servicios de extensión privados han proporcionado inmensos beneficios, bien vale la pena el costo de mantener sus servicios una vez finalizado el proyecto Progana. Sin embargo, ya sea por la pandemia de COVID-19 u otros factores, muchas asociaciones y cooperativas aún no han comenzado a apoyar a los extensionistas privados por su cuenta. Los cálculos realizados por el equipo del Progana demuestran los beneficios del aumento de la productividad y la calidad de la leche como resultado de los servicios de extensión privados deberían cubrir fácilmente los costos de una asociación que contrata a uno o más extensionistas. A medida que las asociaciones y otros actores de la cadena de valor encuentren formas de aprovechar estas ganancias en productividad y calidad, los servicios de extensión privados prometen ser una parte importante de la cadena de valor en el futuro previsible.