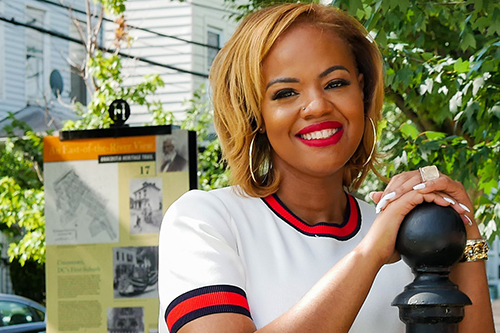 Tune in to WOL 1450 AM, 95.9 FM and WOL Live Stream on Thursday, February 17 at 10:30 am EST for Everything Co-op, hosted by Vernon Oakes. This week, Everything Co-op continues its recognition of Black History Month, with a focus on this year's theme of Black Health and Wealth. On Thursday, Vernon will interview racial and social justice advocate Jamila White, principal of BlakQuity, a company dedicated to addressing equity gaps in Black and Brown communities.
Jamila White is a racial equity/justice advocate and global community development expert who works with organizations, businesses and individuals. She was raised in Virginia and Southeast Washington, DC and comes from a long line of trailblazing women who instilled in her a deeply-rooted commitment to community service and social justice. In 1961, Jamila's late Aunt Lula, then 22 years old, joined 300+ Freedom Riders who risked their lives riding public transportation throughout the South to test the law integrating transportation facilities—she was arrested and sent to Mississippi's notorious Parchman Prison. Jamila's life's work has been built upon those same values held by her aunt, and often learned around her grandmother's kitchen table, to empower Black people at home and abroad.
After working in Africa and the Caribbean for over a decade, Jamila returned to the U.S. to start her own business. Her firm, BlakQuity, tackles wealth and equity gaps in Black and Brown communities by bringing funding, investment, partnership and developmental resources together in sustainable ways. During her first overseas experience in Senegal, Jamila witnessed absolute poverty, and absolute beauty. As a consequence, at the age of 19 she decided to dedicate her life to poverty alleviation, women's empowerment, liberation, equity and economic mobility.
Jamila is a trusted advisor serving the community in various leadership positions and programs. She represents Ward 8A as a locally elected member of Washington, DC's Advisory Neighborhood Commission; and serves as the co-founder of the Geraldine N. Coleman "A Seat at the Kitchen Table" College Scholarship Fund.
Jamila holds a bachelor's degree in Business Management from Hampton University and a master's degree in Public Administration with a concentration in Economic Development and International Affairs from Indiana University. From her work to her community commitments, Jamila's life is guided by an underlying belief that all people deserve a dignified life.