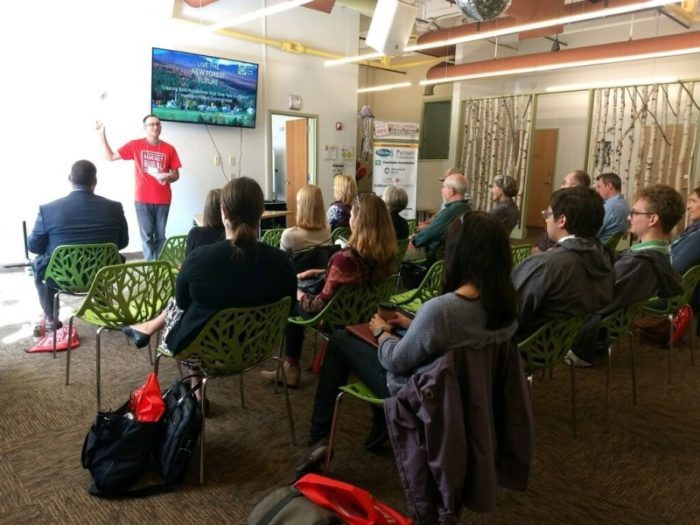 In the years past, Radically Rural conferences served as a physical gathering place for rural leaders to make connections necessary to improve their rural communities. This year's edition of Radically Rural Summit, Radically Rural: Remote, will be held online on September 24th for a national audience at $59 for registration. The event has room for 600 participants, with 60 speakers encompassing 20 sessions. The event will be held online using webinar software with the opportunity for attendees from across the country to watch and join through a chat function.
This year, the conference will host a robust workshop on cooperatives, entitled "Rebuild Your Community Cooperatively," moderated by Erbin Crowell, chair of the NCBA CLUSA Board of Directors and executive director of the Neighboring Food Co-op Association. "From farmer co-ops to credit unions to utility co-ops, the co-operative business model has played a key role in rural America," said Crowell. "And as our communities work to rebuild from the pandemic, co-ops can help us rebuild on a foundation that is more inclusive, resilient, and sustainable. I'm particularly excited for my co-presenters to share their work and hopefully inspire people to explore how they can use the co-operative model be used in new and innovative ways." Panelists for the session include:
Carl Woodruff- Founder, Co-Owner, and Manager of Oxbow Design Build Cooperative.
Lori Capouch- Rural Development Director of the North Dakota Association of Rural Electric Cooperatives.
Paul Bradley- President of ROC USA, LLC and NCBA CLUSA board member.
Rob Brown- Program Director of the Cooperative Development Institute.
Terence Courtney- Director of Cooperative Development & Strategic Initiatives at the Federation of Southern Cooperatives.
A few years ago, the Hannah Grimes Center for Entrepreneurship and the Keene Sentinel started collaborating in Keene, New Hampshire, to showcase new, positive ideas arising from their communities in rural New Hampshire.
"It began with the 'Connect Event' here at Hannah Grimes," said Mary Ann Kristiansen, co-founder of Radically Rural and executive director of the Hannah Grimes Center for Entrepreneurship. "The Keene Sentinel attended and got interested in collaborating, so we decided to build the event around ideas: Installations of Ideas."
Kristiansen said participants would make installations, "Kind of at the center of arts and sharing information. We worked with a creative company to help make more creative installations, sort of like a gallery of ideas. It was all about networking, connecting, local food, and these ideas. It really worked, and so we launched Radically Rural as a two-day Summit."
The Radically Rural event is about positive ideas, according to Kristiansen. "We all know about the problems facing rural America, but this is about the positive things happening all over rural America, the positive people working to improve their rural communities."
Radically Rural Remote will feature six programming tracks focusing on key sectors of importance to rural America: main streets, entrepreneurship, community journalism, arts and culture, land and communities, and clean energy.