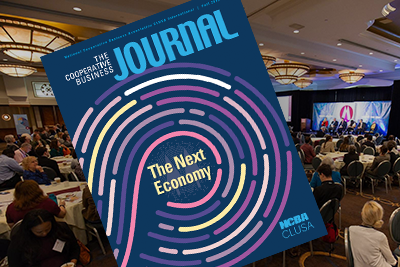 Attendees of the 2019 Co-op IMPACT Conference will have the opportunity to get the Fall issue of the Cooperative Business Journal a month before it's published online. Register now for this event!
We'll be distributing limited edition hard copies of this issue during our opening keynote, "The Next Economy: Will Broader, Inclusive Ownership Go Mainstream?" presented by Felicia Wong, president and CEO of the Roosevelt Institute.
This session—and the accompanying Journal—will explore what the next economy could look like, and the steps we need to take to get there. Set against the backdrop of a U.S. economy burdened by rising inequality, stagnant wages and a deepening racial wealth gap, policymakers and even business leaders are increasingly interested in cooperative forms of ownership.
The only national, cross-sector cooperative event of the year, the 2019 Co-op IMPACT Conference will explore how cooperatives—as principled, purpose-driven businesses—are transforming the economy, bringing new opportunities and shared prosperity to communities nationwide and around the world. See the full IMPACT 2019 agenda here.
Don't miss your opportunity to be part of this year's conversation—register now!
THANK YOU TO OUR 2019 CO-OP IMPACT CONFERENCE SPONSORS