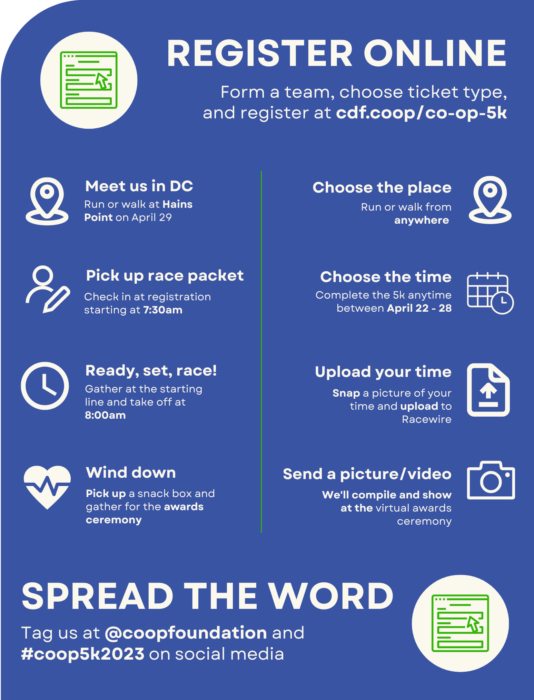 Lace up your sneakers for CDF's annual hybrid Co-op 5k to help raise funds for cooperative development. Participate virtually anytime between April 22 and April 28 or join in person in Washington, DC at Hains Point, East Potomac Park on April 29. Continuing last year's theme of Do Well to Do Good, participants will run, walk, or stroll to honor Chuck Snyder's legacy.
"Reminding us of the importance of Do Well to Do Good, NCB is excited about participating in the Co-op 5k in Chuck Snyder's honor again this year. NCB will work hard to maintain our title of top fundraiser, but we invite others to try to out fundraise us," said Casey Fannon from National Cooperative Bank and team Sole Shakers.
This year's race is your co-op's chance to outrun, out spirit, and out fundraise last year's winners – CoBank, CFC, Shared Capital Co-operators, and National Cooperative Bank. Whether you meet us in DC or run by yourself or with friends, colleagues, or family at home, show your support for cooperative development!
"Organizing a team for the Co-op 5k is a great way to build community while doing good. CDF makes it easy and fun to grow the co-operative economy, together," said Erbin Crowell from NFCA and team Neighboring Co-operators.
To register individually, visit cdf.coop/co-op-5k. To register a team or to sponsor, contact Kirstie Boyette at kboyette@ncba.coop. Register by March 31 to be guaranteed a race shirt in your desired size.
Have more questions? Check out our FAQs.
---
About the Co-op 5k
The Co-op 5k is a fun, family friendly event in the Spring. It serves as a major fundraiser for the Cooperative Development Foundation. Funds raised through the event support cooperative development nationwide and allows CDF's Disaster Recovery Fund to continue without overhead costs so every dollar donated to the Fund go out to cooperatives in need.