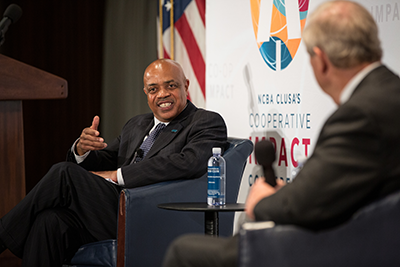 There are just a few more days to take advantage of more than 50 hours of on-demand programming from the 2021 Cooperative IMPACT Conference! If you missed a session or want to re-watch one, just log back into the conference platform and choose "On Demand" from the "Schedule" tab drop-down menu.
Drawing close to 700 cooperators together from around the world, NCBA CLUSA's 2021 Cooperative IMPACT Conference provided an unparalleled platform to reenergize the cooperative movement and expand the conversation around co-op identity. That theme linked two tracks, 40+ sessions and 118 speakers across five days of programming that inspired learning and action.
If you haven't registered for IMPACT 2021, it's not too late! Register now for access to all of last week's IMPACT+ programming, in addition to IMPACT 2021 programming from the first week of October.
Already registered? Log in now!   Still need to register? It's not too late!