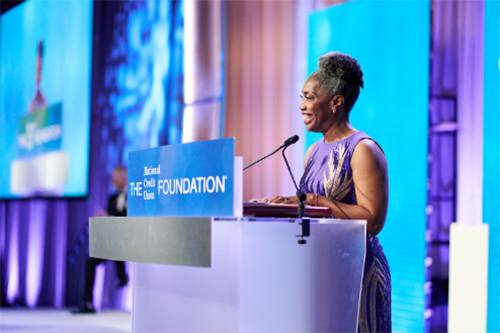 Earlier this year, the African-American Credit Union Coalition (AACUC), an NCBA CLUSA member, was presented with the 2022 Anchor Award by the National Credit Union Foundation's Board of Directors.
Widely considered a Nobel Peace Prize equivalent within the credit union industry, the award recognized AACUC's global efforts to unite financial industries in eradicating racism—particularly the organization's leadership in the wake of George Floyd's murder, the coronavirus pandemic and political strife.
"AACUC has been able to rally and align industry and political leaders, creating a forum for uncomfortable but necessary conversation, and influencing strategies to make real change happen," NCUF said in a press release.
The Anchor Award is a rare and prestigious recognition that had not been awarded since 2019.
Watch as AACUC president and CEO Renée Sattiewhite accepts the award during the Herb Wegner Memorial Awards Foundation Dinner, held in conjunction with the Credit Union National Association's 2022 Governmental Affairs Conference last month.