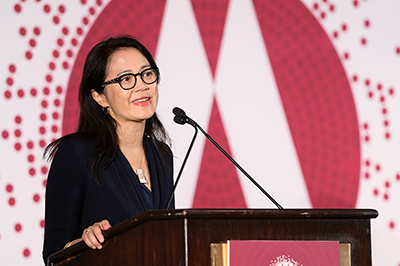 Felicia Wong, President and CEO of the Roosevelt Institute, will appear on Everything Co-op on Thursday, December 12. A weekly exploration of the impact and potential of the cooperative business model, Everything Co-op aims to generate interest in and support for the cooperative movement.
Hosted by Vernon Oakes and conversational in format, the show is streamed live at worldcnews.com/listen-live every Thursday from 10:30-11:30 a.m. EDT. Everything Co-op also airs live in the Washington, D.C. Metropolitan Area on WOL 1450 AM—Radio One's premiere talk radio station.
This week, Vernon and Felicia will discuss her concept of a New Economy, and the lessons that can be learned from cooperatives about business values, diverse stakeholders and inclusive growth. The Roosevelt Institute is a New York-based think tank and campus network that promotes a bold economic and political vision capable of bringing the ideals of Franklin and Eleanor into the 21st century.
Felicia was the keynote speaker at NCBA CLUSA's 2019 Co-op IMPACT Conference. "Building an inclusive economy is not just the right thing to do; it's the smart thing to do," Wong said in her opening address. No longer met with "polite nods" from the political and business elite, the ideals and principles of cooperation are provoking genuine interest—a "tectonic shift among stakeholder priorities," she added. Be sure to join us next October for the 2020 Co-op IMPACT Conference!
Felicia helps lead the Roosevelt Institute's work on rewriting the rules agenda, a comprehensive economic program and narrative that has become increasingly influential. She is the co-author of The Hidden Rules of Race: Barriers to an Inclusive Economy (Cambridge University Press, 2017) and her work has appeared in the New York Times, the Washington Post, Time, Democracy: A Journal of Ideas, and the Boston Review.
Listen to archived episodes—including NCBA CLUSA's centennial podcast series in partnership with Everything Co-op—at everything.coop.