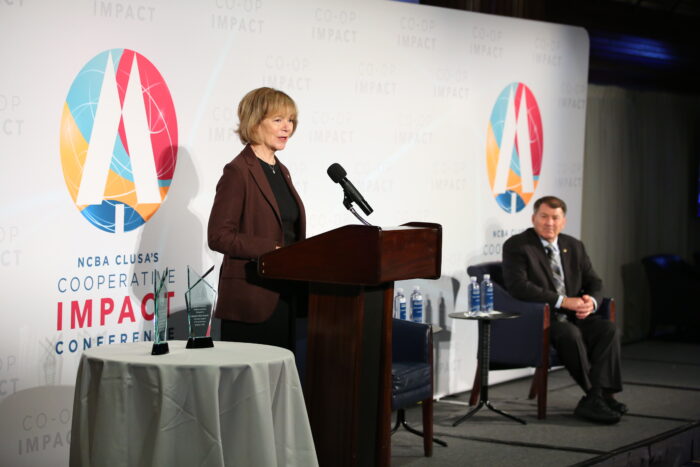 Both chambers of Congress introduced resolutions last week to recognize October as National Cooperative Month.
In the House of Representatives, the resolution was led by the co-chairs of the Congressional Cooperative Business Caucus, Congressmen Mark Pocan (D-WI) and Jim Baird (R-IN). The co-chairs were joined by Congressman Peter Welch (D-VT) and Congressman Ed Case (D-HI).
Ask your U.S. Representative to join the Congressional Cooperative Business Caucus
A companion version of the resolution was introduced in the Senate by a Senator Tina Smith (D-MN), Senator John Hoeven (R-ND), Senator Tammy Baldwin (D-WI), Senator Joni Ernst (R-IA), Senator Chuck Grassley (R-IA) and Senator Ron Wyden (D-OR).
Senate co-leads Senators Tina Smith and John Hoeven expressed the following in a press release:
"In 1948 Minnesota became the first state to issue a Co-op Month proclamation," said Sen. Smith. "I'm once again honored to help continue our state's tradition of recognizing the important role co-ops play in building a diverse economy. Co-ops enable farmers and producers to access larger markets and negotiate prices. They help equip rural communities with the broadband and electrical infrastructure they need. And they span many more industries like housing, transportation and groceries. I'm glad to introduce this bipartisan resolution with Sen. Hoeven and will keep working to create economic opportunity for all."
"Cooperatives play an important role in communities across North Dakota as well as the country," said Senator Hoeven. "Whether it's telecommunications, agriculture, energy or other vital industries, this bipartisan resolution recognizes the contributions of the cooperative business model in creating opportunity and economic growth."
NCBA CLUSA is encouraged to see the ongoing bipartisan support for cooperatives in Congress through actions like these resolutions.