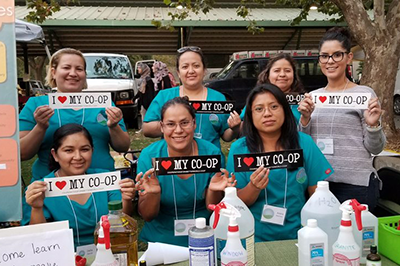 Last week, the Senate Appropriations Committee unanimously passed the Agriculture, FDA and related agencies funding bill for Fiscal Year 2020. Importantly, this bill provides $6.8 million for the U.S. Department of Agriculture's Rural Cooperative Development Grant (RCDG) program.
Since Fiscal Year 2014, RCDG funding has remained largely stagnant at or near $5.8 million, making the Senate's call for an additional $1 million the first substantial increase in funding in five years.
RCDG is a competitive grants program administered by the USDA and awarded to cooperative development centers working in rural communities nationwide. These funds are used to assist individuals or businesses in the startup, expansion or operational improvement of rural cooperative enterprises. Projects range from converting and establishing cooperative workplaces to housing, food, retail and other forms of co-ops. RCDG funds are critical to ensuring that cooperative development centers have the necessary resources to continue their economic and community development projects in rural America.
Earlier in the year, the House of Representatives passed legislation that would maintain RCDG funding at $5.8 million. That legislation also rejected the Administration's proposal to eliminate the program.
Also this year, and for the first time, a group of Senators wrote a letter to Senate Appropriators urging $8 million for RCDG in Fiscal Year 2020. Read the letter here.
This increase is also in no small part a result of the grassroots advocacy from cooperators nationwide who called, wrote or emailed their Members of Congress supporting an increase in this critical program. Between 2008 and 2017, cooperative development centers nationwide used RCDG funds to generate or save nearly 15,000 jobs, incorporate over 1,000 businesses and create more than 4,000 cooperative housing units across rural America.
While not fulfilling the senators' entire request, this $1 million increase is significant and, if included in the final version of the bill, creates potential for more organizations to access RCDG funds. As more retiring baby boomers look to convert their businesses, more organizations are applying for RCDG funds.
This achievement is important, but not the end of the line. Now, members of the Senate and House of Representatives will reconcile the differences between their two bills. NCBA CLUSA will continue to advocate on behalf of cooperatives and cooperative development centers nationwide for the reconciliation to fund RCDG at the increased $6.8 million.
To join NCBA CLUSA's advocacy efforts on RCDG, email advocacy@ncba.coop.