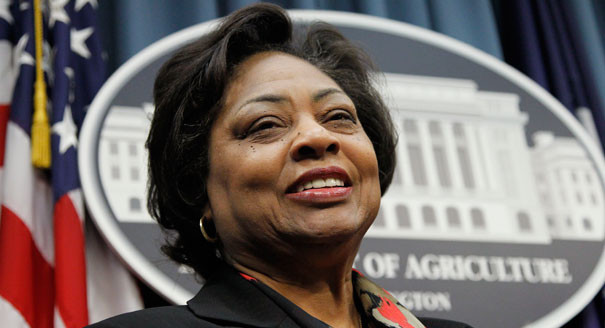 Tune in to WOL 1450 AM, 95.9 FM and Tune-in Radio, January 14, 10:30 am, for Everything Co-op, hosted by Vernon Oakes. This week Vernon interviews Shirley Sherrod, Executive Director of the Southwest Georgia Project for Community Education, Inc.Vernon and Mrs. Sherrod will discuss the results of the Georgia runoff elections, and the successful work completed by the Southwest Georgia Project; the importance of doing the ground work to elect politicians who are socially responsible; and the role that cooperatives play in solving community problems.
Shirley Sherrod is a Baker County Georgia native who grew up on her family's farm. In March 1965, her father was murdered by a white farmer who was not prosecuted. The tragic murder of her father when she was 17 years old had a profound impact on her life and led to her decision to stay in the south to work for change.
Shirley helped to start the civil rights movement in Baker County and later married Charles Sherrod, one of the founding members of the Student Nonviolent Coordinating Committee (SNCC) and leader of SNCC's work in Southwest Georgia.
With her husband and others, she helped to form New Communities, Inc., the first Community Land Trust in the United States. New Communities serves as a laboratory and model in the movement toward the development of community land trusts (CLTs) throughout the country. There are more than 200 CLTs today.
Shirley has a B.A. in Sociology from Albany State University in Albany, Georgia and a M.A. in Community Development from Antioch University in Yellow Springs, Ohio. In 2015, she was awarded an Honorary Doctor of Humane Letters from Sojourner-Douglas College in Baltimore, Maryland. She has received many awards for her work in civil rights, and as an advocate for farmers and rural residents.
In 2009, Shirley was appointed by the Obama Administration as USDA Georgia State Director of Rural Development. She became the first person of color to hold the position. Shirley was forced to resign her position in 2010 after conservative blogger, Andrew Brietbart edited a speech she made at a NAACP banquet, to make it appear that she discriminated against a white farmer while serving in her federally appointed position. Subsequent events showed that Brietbart's edited video was taken out of context and was part of broader comments that conveyed a completely different meaning. USDA Secretary of Agriculture Vilsack apologized and offered her another position, which she declined.
Shirley serves as the Executive Director of the Southwest Georgia Project for Community Education, Inc., Vice President for Development for New Communities, Inc. and State Lead for the Southern Rural Black Women's Initiative for Economic and Social Justice (SRBWI).