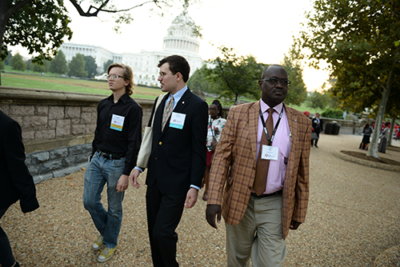 There are less than two weeks left to submit an application to attend this year's Cooperative Leaders and Scholars Institute at the 2019 Co-op IMPACT Conference. Requests to sponsor a participant are also due by August 12.
The Cooperative Leaders and Scholars Institute (CLSI) is your opportunity to develop and engage employees, board members and post-secondary students with participation in a national cooperative conference and exposure to co-op industry and thought leaders, policymakers and other key stakeholders.
All participants of CLSI will:
Attend the full Co-op IMPACT Conference, from October 2-4, 2019, free of charge
Participate in exclusive orientation and networking events designed specifically to meet their interests and broaden their understanding of the impact cooperatives, mutuals and credit unions have on their members, communities and the broader economy
Receive a $500 travel stipend and shared accommodations at the Sheraton Pentagon City conference hotel in Arlington, Virginia
CLSI 2019 will also include a one-day, pre-conference course on excellence in co-op leadership and management from Saint Mary's University, held at NCBA CLUSA headquarters in Washington, DC on October 1.
CLSI scholarships are open to:
Young professionals (ages 18-35) beginning their career in cooperative business, credit unions or mutual insurance
Post-secondary students of any age with an interest in co-ops, credit unions, and mutual insurance
Individuals with an agricultural and/or rural background
​Interested applicants must complete an application and include a letter of recommendation from a co-op sponsor. Applications must be submitted by August 12.
Your organization can help CLSI continue to flourish by sponsoring a young leader. You may either name the individual attendee(s) you wish to sponsor or sponsor an additional spot open to those applying to our scholarship program, above. CLSI sponsorships cost $1,700 per person, which covers conference registration, airfare and accommodations in Arlington, Virginia for one attendee. Requests to provide sponsorship must be submitted by August 12.