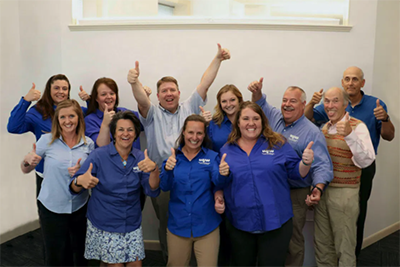 Founded in 1864 and in its fifth generation of family ownership, W.J. Wheeler Insurance Agency has been serving the insurance needs of families in rural Western Maine for a very long time. But the family had no clear ownership succession plan for the company beyond the current generation.
So they chose a path that is uncommon but growing in popularity: selling the company to their employees. Now, those who know the company best own the company together, are mutually responsible for its success and will benefit from that success into the future.
An Exit Plan for Owners that Keeps the Lights On
When we think about economic development in our rural communities, sometimes we get so focused on startups that we forget about our many established, successful small businesses. What happens when the owners of these existing businesses are ready to sell or retire?
According to national surveys, 79 percent of business owners want to retire within 10 years—33 percent in less than three years. Those are big numbers. However, only 15 percent of businesses successfully transition to the next generation in the family, and only 20 percent of commercial listings actually sell.
That means assuming that the kids will take over, or that someone else will buy your business, is a risky proposition.
Too often, the default option ends up being liquidation and closure. And the smaller and more rural the business, the greater the likelihood of that outcome. Because of this, one of the largest single sources of job loss in the U.S. is from business closure due to owner retirement.
While half of the business owners nationally are over age 50, in many rural regions half are over 60. This means that the ominous trends represented in the national data are all the more imminent and acute in rural America.
An Accelerated Economic Crisis
The global pandemic has caused an economic contraction not seen since the Great Depression. Scores of small businesses may not survive. Recent national survey data from Main Street America shows just how bad this could be.
Roughly 30 percent of small businesses say they will permanently close if the current economic shutdown lasts for two months. Another 35 percent say they will permanently close if it lasts for 3-5 months. The wave of baby boomer business owner retirements looked as though it would play out over a number of years. In the wake of COVID-19, however, older business owners are most likely to say, "enough is enough," and permanently close.
There are hundreds of thousands of rural businesses employing millions of workers where the owner wanted to retire in the next few years, but few of them have a clear understanding of the process and options for doing so. Now the current economic crisis is causing them to rethink whether they want to keep going at all.
What if Business Owners Had the Tools and Support They Needed?
We could go a long way toward addressing this challenge by developing programs of financial and technical assistance that help current owners retire and their businesses transition to worker-owned cooperatives.
Research shows that employee-owned firms are more profitable and productive, create more jobs in the good times and lay off fewer workers in the downtimes, and are effective at improving the near-universal challenges of youth out-migration and limited economic opportunity and household wealth affecting rural areas.
Studies have also found that employee-owned businesses greatly improve income, household wealth and job tenure for young workers, and significantly narrow the gender and racial wealth gap.
Given the looming crisis of small business closures, we need to keep our expectations in check as to how many can be saved through employee buyouts, but there are many practical steps regions could take to address this challenge while creating opportunities for workers to build wealth through ownership.
Some states use federal workforce development funds to help business owners and their workers transition to employee ownership. Numerous states are, or are at least considering, offering tax and other incentives for selling a business to employees. And a growing number of states have established Employee Ownership Centers to offer education, training and technical assistance for interested businesses.
Small Business Development Centers could provide some services to companies exploring an employee buyout, as they are now mandated to do by the recently enacted Main Street Employee Ownership Act. The U.S. Department of Agriculture (USDA) has long been a champion of cooperative development, including funding technical and financial assistance for transitioning businesses to worker cooperatives.
The USDA also provides funding for about 30 Cooperative Business Development Centers working in rural regions to help start, improve or expand cooperative businesses, including through conversion to co-op ownership.
The story of Wheeler Insurance finding a way to continue its legacy shows how employee ownership can preserve and grow economies and jobs in many rural communities. This path might not make sense for every business, but, where feasible, we should encourage and assist businesses to explore the possibility of employee ownership as a way to sustain the business, deepen local ownership and control, and provide more workers an opportunity to build wealth through ownership.
—This article was first published by the Daily Yonder, a source of news, commentary and analysis about and for rural America.