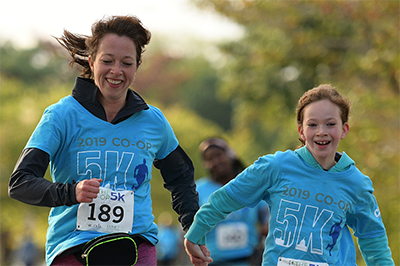 The Cooperative Development Foundation is taking this year's Co-op 5K virtual. Cooperators from around the world now have the opportunity to compete against one another from their home turf. The event offers employees, families and fellow cooperators the opportunity to support the work of the Cooperative Development Foundation and participate as a team while continuing to social distance.
During a time when many people are working remotely, the race is an opportunity for organizations to offer a virtual team building event.
This year's virtual Co-op 5K is a weeklong event beginning September 29 and ending October 2 at 11:59 pm. Using a GPS device to track your time, run or walk 3.1 miles at any point between those dates. Need some tunes to listen to while you're on the move? A link to a curated playlist provided by our sponsors will be shared the week before the event. Be sure to send us a picture or video of your participation. Participants will be recognized during a virtual awards ceremony on Thursday, October 8.
The Co-op 5K serves as a major fundraiser for the Cooperative Development Foundation. The money raised through race sponsorships allows CDF to operate the Cooperative Disaster Recovery Fund without cost. That means every dollar donated to the fund goes out in grants to cooperatives in need. This year CDF has raised nearly $100,000 to help cooperatives impacted by COVID-19. The grants purchased personal protective equipment for member-owners of homecare cooperatives, covered lost wages resulting from decreased work hours, and helped cover rent and utility bills.
To register individually for the Co-op 5K, visit cdf.coop/co-op-5k. You can also add the Co-op 5K when you register for the Co-op IMPACT Conference. To register for the race as a team, contact Kirstie Boyette at kboyette@ncba.coop. Register by September 1 to be guaranteed a race t-shirt in your desired size!