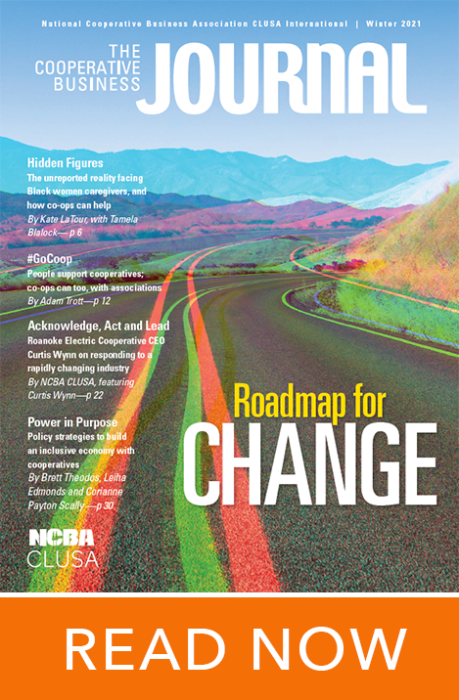 NCBA CLUSA is pleased to announce that the latest issue of the Cooperative Business Journal is now available online in a new, easier to read and download format.
This issue of the Journal explores some of the ways co-ops can drive change – whether that means closing the inequality gap, dismantling systemic racism or building resilience in the face of climate change.
In Hidden Figures, Kate LaTour and Tamela Blalock explore the unreported reality facing Black women caregivers, and how co-ops can help. They highlight, "Without policy intervention, we risk irreparable setbacks to Black women in the workforce and their economic security for decades to come."
In #GoCoop, Adam Trott highlights how people can support cooperatives but also, how co-ops can support each other through associations. Trott writes, "The desire and need for co-ops to empower transformational change have a significant impact on how co-ops are run, too, regarding race and gender inequities, climate change, widening wealth gaps, homophobia and other systemic issues."
In Acknowledge, Act and Lead, Roanoke Electric Cooperative CEO Curtis Wynn sits down for a virtual interview with NCBA CLUSA President and CEO Doug O'Brien to discuss the rapidly changing electric cooperative industry. They discuss how co-ops can address urgent priorities around inequality systemic racism and climate change; reflect on how electric cooperatives are rescinding to competition and new technology with creativity and innovation; and discuss opportunities for impact with the Biden Administration.
In Power and Purpose, Brett Theodos, Leiha Edmonds and Corianne Payton Scally explore policy strategies to build an inclusive economy with cooperatives. They write, "As the effects of the effects of the pandemic continue to ripple through the economy, people of color, low-income workers and business owners are being disproportionately affected. To address these problems, federal, state and local policymakers working to make their communities healthier and more inclusive and resilient are turning to the cooperative business model."
—
We are now accepting submissions and ads for the Spring/Summer 2021 issue of the Cooperative Business Journal. Email journal@ncbaclusa.coop to reach a specialized audience of thousands of cooperators who read with purpose!
The Cooperative Business Journal is a digital magazine published quarterly by NCBA CLUSA, cultivating the best work of experts, researchers and thought leaders in the cooperative space.