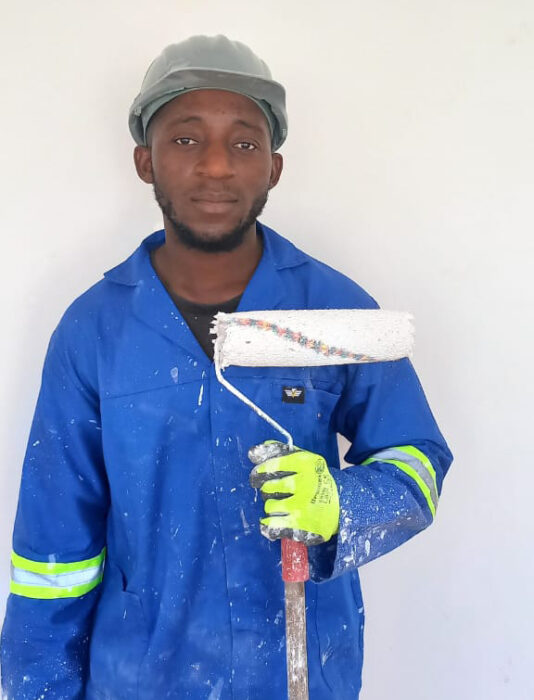 On Saturday, August 12, NCBA CLUSA joined organizations around the world on social media to celebrate the ways #YouthLead this International Youth Day. We're continuing that celebration this week with an inspiring story from NCBA CLUSA Mozambique. Keep reading to learn how our USAID-funded Olipihana project is creating futures for young people like Afonso.
Cabo Delgado, bordering Tanzania's southern edge, is Mozambique's most northern province. It is also one of the country's poorest provinces, lagging behind the rest of the country in nearly all developmental indicators—agricultural productivity, access to employment, rural education and civic engagement just to name a few.
Cabo Delgado is also highly vulnerable to climate shocks, as seen when Cyclone Kenneth made landfall in 2020 and left thousands displaced. And as if that weren't enough, since around 2007 the province has witnessed the emergence of violent extremist activity, which has displaced more than 1 million people, around half of whom are youth.
Youth and adolescents are disproportionately affected by the structural issues facing Cabo Delgado, which can in turn drive conflict. Indeed, youth in the status of waithood1 has been identified as a driver of conflict in the North. When questioned regarding the challenges facing them, a recent study2 of youth found that an overwhelming majority raised the need for decent jobs as their principal concern, particularly for skills that will enable them to better survive in the informal (mainly trading) economy.
NCBA CLUSA's Olipihana program, a three-year U.S. Agency for International Development (USAID)-funded program, was designed to address this situation. By working across three main pillars—1) increasing economic pathways, 2) increased resilience to shocks and 3) improved information dissemination—Olipihana aims to provide youth with increased and diversified livelihood opportunities that will, ultimately, increase their resilience to social, environmental and economic shocks.
Afonso Jaime is a typical young man in the Montepuez district of Cabo Delgado, one of the three districts where Olipihana is operating. At 27, Afonso has a wife and two sons. His wife doesn't work, and the family depends on his income alone. Finding good paying work has been hard for Afonso, limiting him to a sporadic, small income by assisting friends and family with light construction and painting work—learning on the job, with no formal training—and earning what little money he can on the side as a mobile money agent. It's easy to see how someone like Afonso could be highly vulnerable to the attraction from alternative, often illicit, opportunities to earn an income such as artisan ruby mining or even from offers of financial gain in return for joining forces with the insurgents, as many others have done.
However, things have changed for Afonso since getting involved with NCBA CLUSA's Olipihana program. Olipihana is increasing livelihoods opportunities by promoting technical, vocation education and training (TVET) for women, youth and IDPs. TVET is nothing new in Mozambique, and in recent years has become increasingly formalized through the creation of the National Authority for Professional Education (ANEP), with a view to increase citizens' access to job opportunities in a variety of sectors, including the massively expanding oil, gas and mining industries. Olipihana, however, has responded to a specific need by focusing not on traditional, three-to-six  month long courses aimed at large, formal employers like those operating in the extractive oil, gas and mining industries, but rather by focusing on shorter, practical and rapid impact courses that provide trainees with the skills and knowledge required to quickly access informal wage labor and entrepreneurial opportunities in their immediate communities.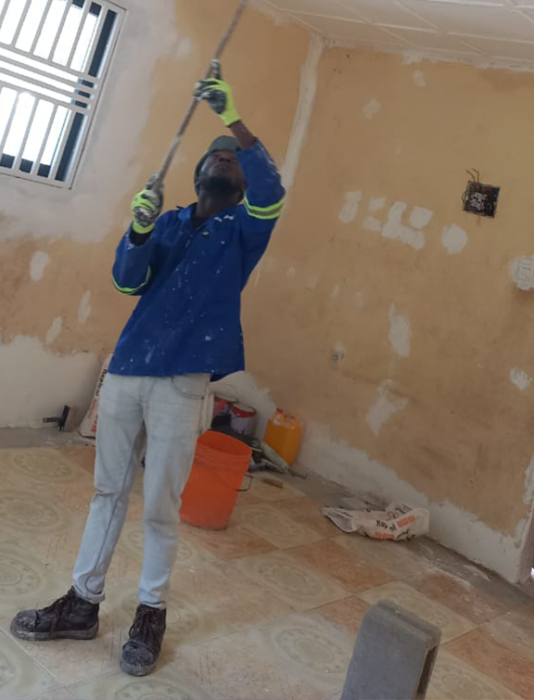 Since it began in 2020, Olipihana has since trained around 1,063 people (525 youth) in short, practical, rapid impact courses that equip youth with the skills required to quickly start generating an income in their communities, from activities like bread baking, motorbike and pump repair, IT skills, proper use of agrochemicals, civil construction, electrical instillation—including solar panels—and civil painting. Olipihana is proving that TVET doesn't always need to be long and costly and has managed to train people for less money and in less time than traditional TVET courses.
Afonso's experience is a perfect example of this flexible, rapid impact and cost-effective training strategy. He and 19 others completed a five-day course in civil painting with the Montepuez Industrial Institute. At the end of the training, the trainees put their learning into practice by repainting several of the Institute's training rooms. The training cost came out to around $170 per person compared to around $1,500 per person for a three-month training course in the same topic.
Since his training, Afonso—equipped with his start-up painting kit—has been painting houses in the town of Montepuez, charging around 8,000 to 10,000 MZN (around USD$150) per house, which takes around a week to paint. He's now known for the quality of his work and his attention to detail and professionalism—something he attributes to techniques learned during the course. Olipihana continues to provide him with ongoing training and support in business skills by supporting him to identify opportunities to partner with graduates from the Olipihana/Montepuez Industrial Institute's civil construction course for jobs that require additional construction work, and to identify where taking on assistants would free him up for the more specialised tasks as well as marketing for his business. Earning around $150 per week, Afonso's business is a far cry from his work as a mobile money agent and provides him with not only the means to support his family but also with a reason to look to the future with hope and ambition.
—NCBA CLUSA believes that communities and countries prosper when #YouthLead. Want to learn more about our work? Click on the button below to learn about out our inclusive market systems approach to youth resilience.
Inclusive Market Systems for Youth Resilience
---
1Waithood is defined as a prolonged period of suspension between childhood and adulthood. Youth transitions in to adulthood have become so uncertain that a growing number of young men and women must improvise livelihoods and conduct their personal relations outside of dominant economic an familial frameworks. From A. Honwana, 2013. "Youth, Waithood and Protest Movements in Africa."
2A. Honwana and C. Shenga, 2020. "Cross-Sectoral Youth Assessment USAID."